Do you need to make changes to a PDF file but don't have the necessary software? Or maybe you're on the go and don't have your computer with you? Are you looking for a way to easily edit PDF files online? If so, then you have come to the right place!
In this blog post, we will introduce you to PDF Editor Online – a powerful online tool that allows you to make changes to your PDF files without having to install any software on your computer. With PDF Online Editor, you can add text, images, and signatures; correct mistakes; and much more! Editing PDF files can be a real pain, especially if you don't have the right tools.
But with PDF Editor Online, you can make changes to your PDFs with ease. But there are hundreds of PDF file Online Editors out there in the market. Which one to choose? Choosing the right PDF Online Editor is again a tough task as you are putting your sensitive information and files at risk by uploading them on online platforms.
So, Choosing the right PDF Editor online on the basis of data security it provides, should be your top-most concern. You can either get a free PDF file Editor online for a secured and safe PDF Editor online. But, What if I tell you that you can have both? A PDF file Editor Online which provides data safety of the user and is absolutely free of cost. Yes, It does sound exciting, Well, exciting it is. A1Office PDF Editor Online is the all rounder you all need in your life for smooth and secured PDF Editing online. What more can the A1Office do? Why to choose A1Office? Let's learn more about the magical Edit Pdf Online.
Why Choose A1Office PDF Editor Online?
A1Office PDF file Editor online works as smooth as magic but that's not all. Unlike some other PDF Online Editor, A1Office provides data safety and security to all the users. So, You don't have to think twice before uploading and editing important or sensitive documents because A1Office PDF file Editor Online does not save any user data.
A1Office PDF Online Editor should be your first choice when editing your PDF documents online. A1Office does all your editing work efficiently that too absolutely free of cost. A1Office provides a powerful stack of tools and functions without any paid subscription.
All the functions are available to all the users, no functions are hidden behind a paywall. So, Still Confused about why A1Office PDF Editor online should be your top-most priority? If you want to secure all your information and document and also to work freely without any cost then A1Office PDF Editor online is your one stop solution. Let's learn "How to Easily Edit PDF Files Online".
How to Easily Edit PDF Files Online?
Editing files online can be a real hassle if you are not using the right tools or editor. No need to panic, here are 7 easy steps to Edit PDF Files online using A1Office PDF Editor online;
Start by opening A1Office website in the browser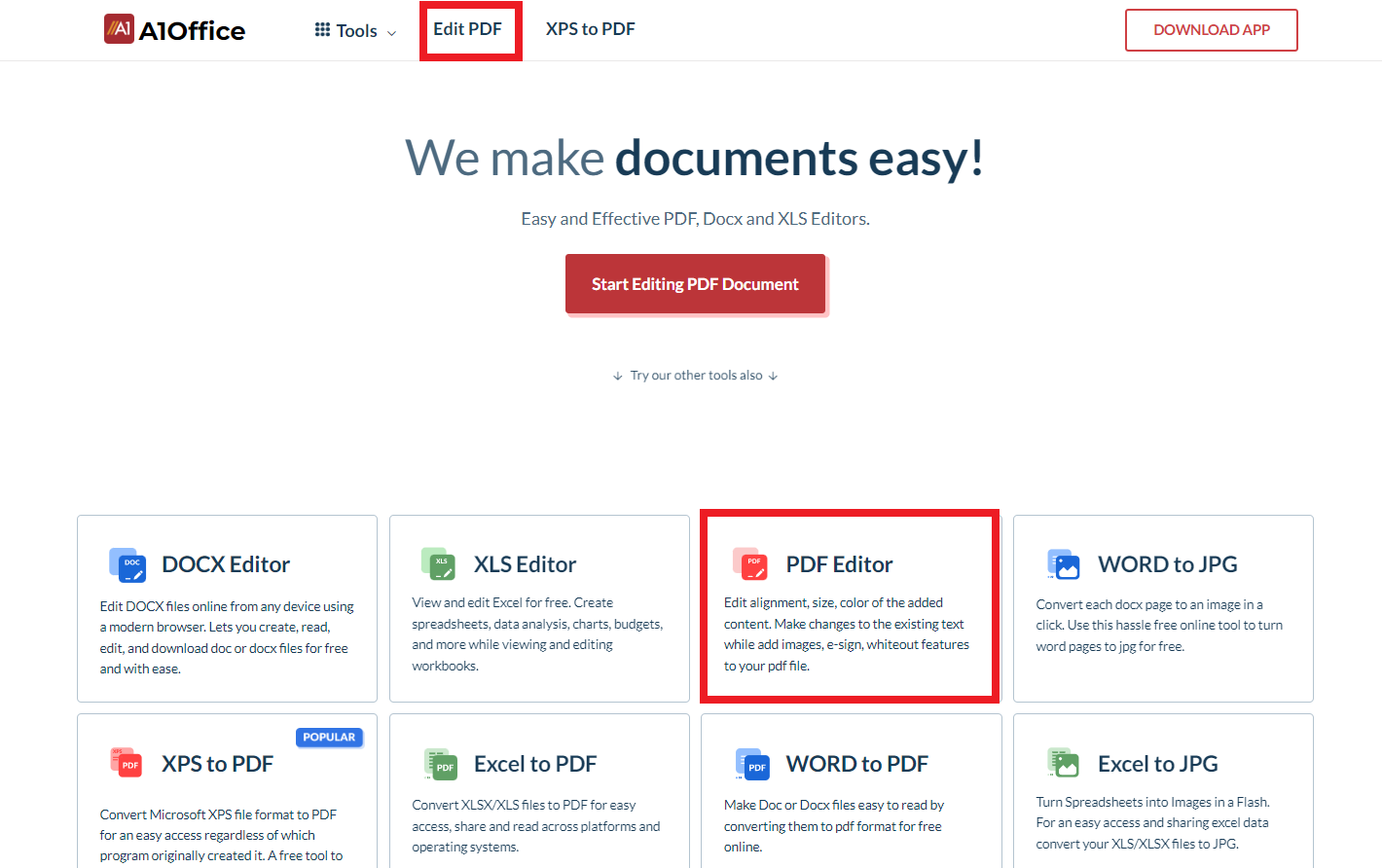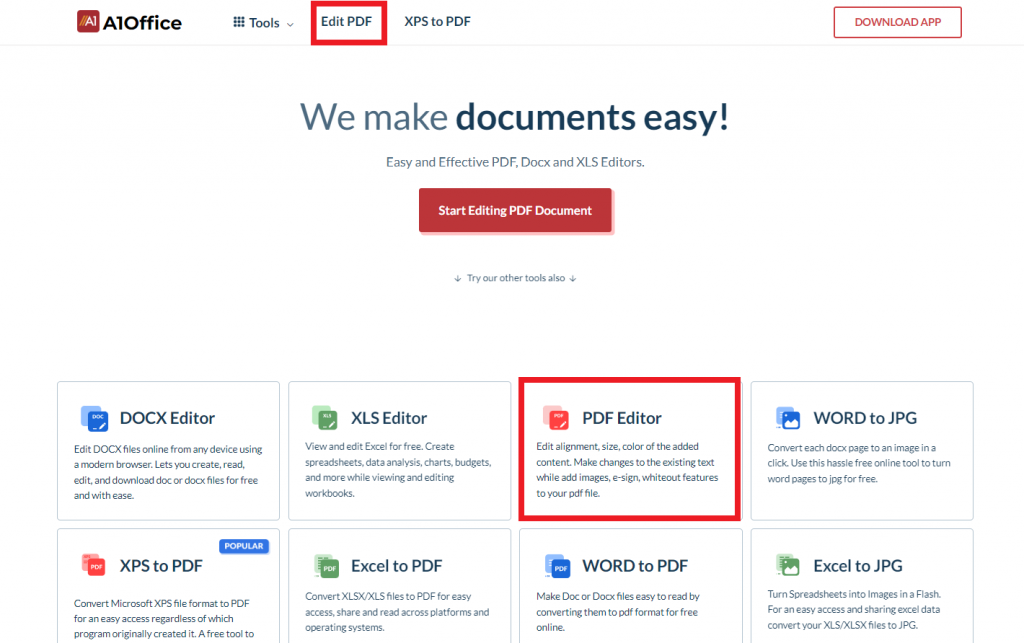 2. Select PDF Editor from the tools
 3. Select your file or drag and drop to upload your pdf file.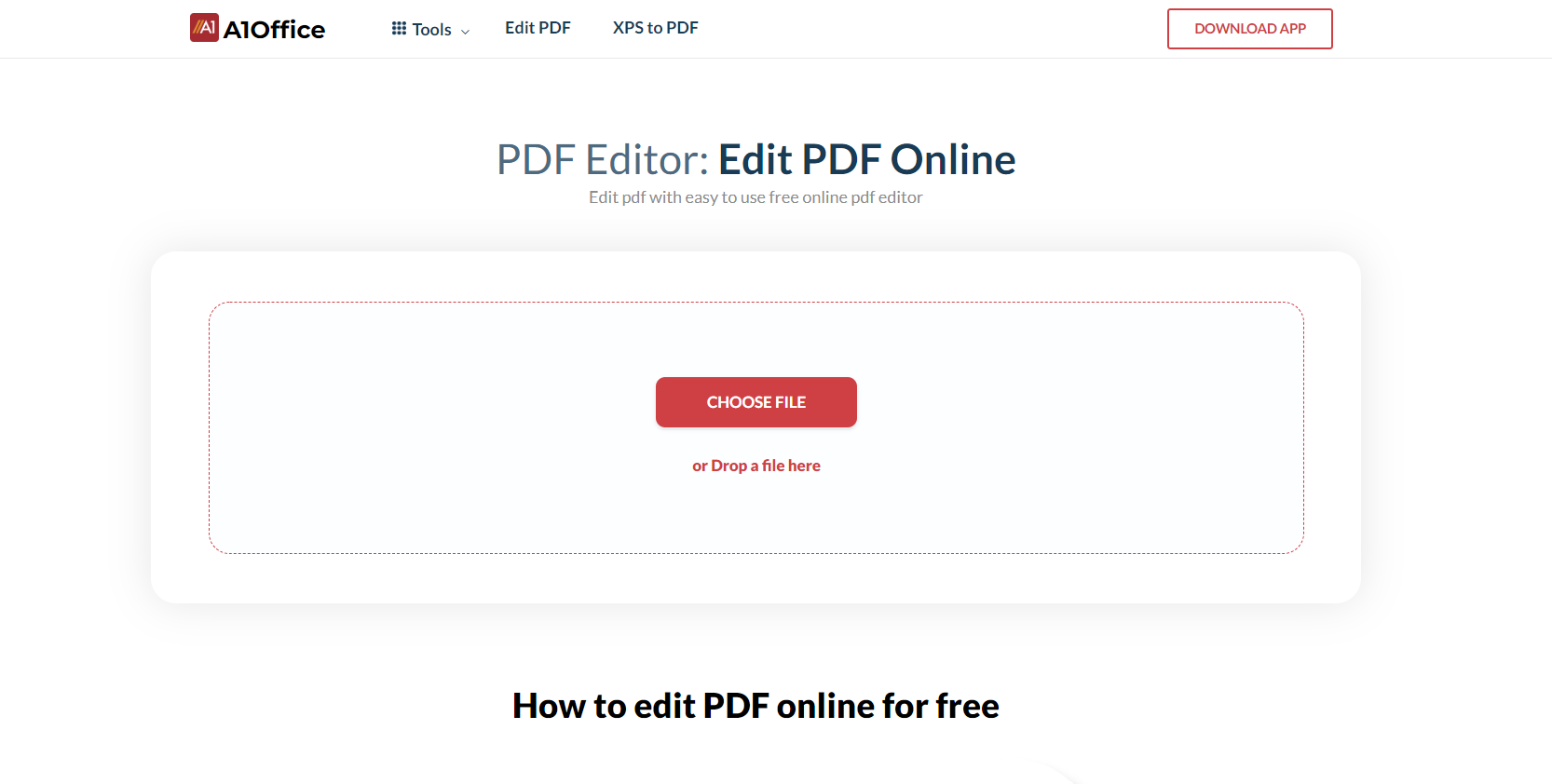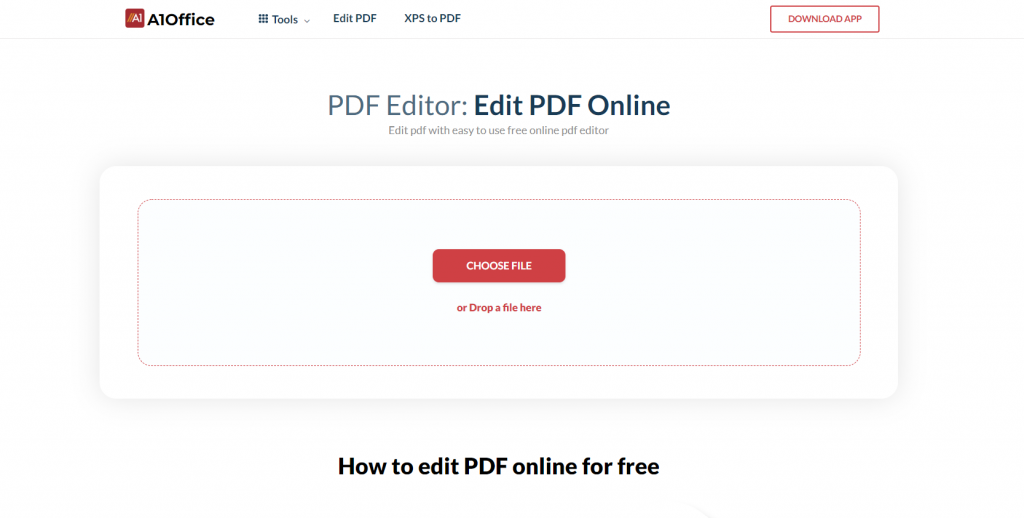 Select Choose file option, Browser the file you need to edit.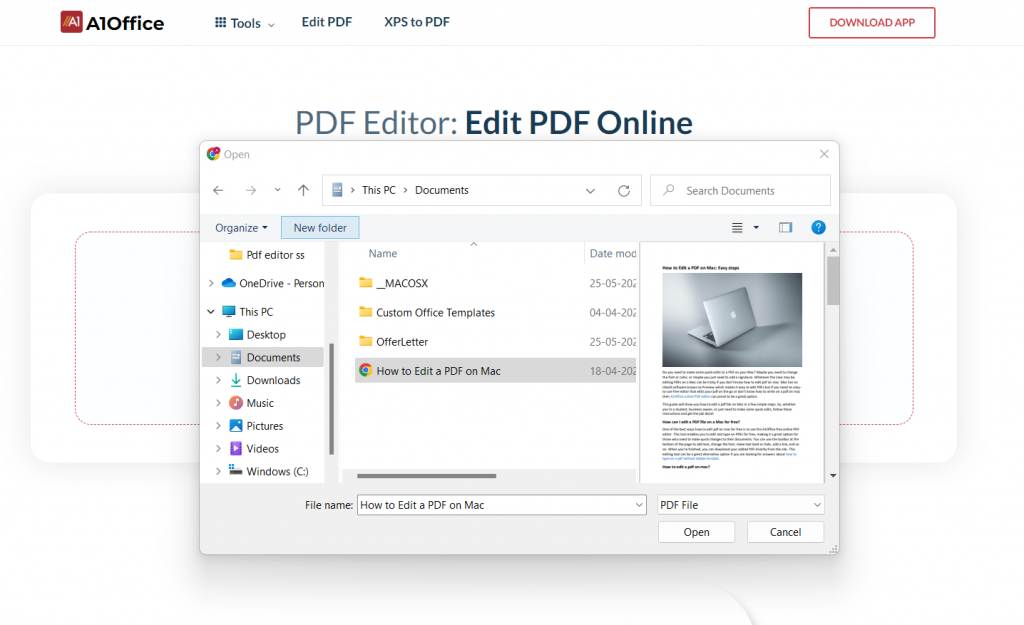 The file is now opened on the editing page, Now you can make desired changes to the document

You can perform various tasks such as :
Add, edit texts
Change text font
Add images
Add signatures
Correct the alignment of the content etc.
After making desired changes in the PDF, You can now save and download the file easily.
It's really easy and efficient to edit PDF Documents using A1Office PDF Editor Online. It just takes a few clicks and your document is ready with well organized and neatly structured content by keeping all your information secured. It is one of the best free PDF Editors online. It works on any web browser and does not require any registration or subscription.
Conclusion
If you find yourself in need of a PDF Editor Online that is both easy to use and reliable, we recommend giving A1Office a try. A1Office is one of the best PDF Editor Online out there- it's fast, reliable, and easy to use. A1Office is a great PDF Online Editor that makes editing files easy and fun.
With this program, you can make quick changes to your documents without having to worry about sensitive documents being exposed to the internet, A1Office does not store user data and is absolutely safe and secure. Plus, the interface is incredibly user-friendly so even those who are new to editing files will be able to get the hang of it in no time at all. So what are you waiting for? Start editing your files today with A1office: Best PDF Editor Online.
Thanks for reading!
FAQ
1.How do you edit text in a PDF?
Editing text in a PDF is a really easy task. You just need a suitable PDF Editor to edit existing text or add new text in a PDF Document. There are many PDF editors in the market. We recommend using A1Office PDF Editor which is absolutely free and easiest among all other PDF Editors.
So, To edit text in a PDF Open A1Office PDF Editor > Upload the PDF file > Select the "Text Tool" from the top menu bar > Select the text you need to edit > Make changes in the text > Click on the save file option and Download the edited File. A1Office allows users to edit existing text in a PDF Document. You can also edit any of the existing text present on your PDF files. You can also check out our other blog on "How to type on a pdf without Adobe Acrobat".
2.Can I edit a PDF in Google Chrome?
Yes, You can edit a PDF File in Google Chrome using anyone of the PDF Editor online. PDF online Editors allows users to Edit and create PDF documents without any installation or downloading any software. You can select any PDF Editor online.
For instance; Edit PDF Files on Google Chrome using A1Office PDF Editor online. It is absolutely free and works efficiently on any web browser, even Google chrome. You just need to open A1Office.co on Google chrome and Start editing your PDF using one of the best and fast PDF file Editor online. It just takes a few clicks and your document is edited in no time. It has an ample amount of features for a creative and out-of-the-box experience. Try A1Office on Google Chrome or any other browser today.