Want to create digital signature in pdf for free? Why stress when our free online PDF editor e-sign is available? You could be thinking about using a digital form signature solution for your company as more and more of our work is done online, or perhaps you've already been asked to use one. If yes, then you have come to the right page.
The unneeded troubles of complex software are made easier with the support of A1Office Free PDF Editor. The toolkit of A1Office Pdf to Editor is quite incredible and enables users to complete a variety of jobs quickly. 
In this blog, we will discuss how to create digital signature in pdf.
What exactly is a Digital Signature?
A communication, piece of software, or digital document can have its integrity and validity verified using a digital signature, which is a mathematical process. The origin, identity, and validity of electronic documents, transactions, or digital messages can be verified using digital signatures. They can also be used by signers to confirm informed consent. Digital signatures are regarded as legally binding in many nations, including the United States, in the same way as classic handwritten paper signatures are. A special digital fingerprint or marking is created when you digitally sign a document to verify your identity.
What are the benefits of Digital Signatures?
Utilizes a public key technique that combines encryption and authentication using both private and public keys.
Timestamping is helpful where timing is important, such as for stock exchanges, the issuance of lottery tickets, and legal procedures. It does this by supplying the data and time of a digital signature.
Used to validate a signer's identity and to certify that their signature is genuine. The most frequently utilized techniques are email, username, and password.
By going paperless, businesses can save money that would have otherwise been spent on the materials themselves as well as the time, labour, and office space needed to manage and move them.
The fundamental advantage of digital signatures is security. Digital signatures have security features built in that make sure documents aren't modified and signatures are authentic.
In digital networks and storage devices, a failure code and verification feature is utilized to find modifications to raw data.
Why A1Office?
Every exchange with our online pdf editor signature tool is encrypted for your security. We promise to keep your data and digital communications private.
A1Office effectively handles all of your editing tasks, and it's completely free.
Access A1Office PDF Editor with any current browser, such as Google Chrome, Firefox, Safari or Opera.
You can sign PDF documents in any way you like with our free online e-sign tool.
How to create digital signature in pdf using A1 Office?
Here is step-by-step guidance on how to create digital signature in pdf using A1Office PDF Editor tool.
First of all, open the A1Office website. After that select the PDF Editor tab from Tools.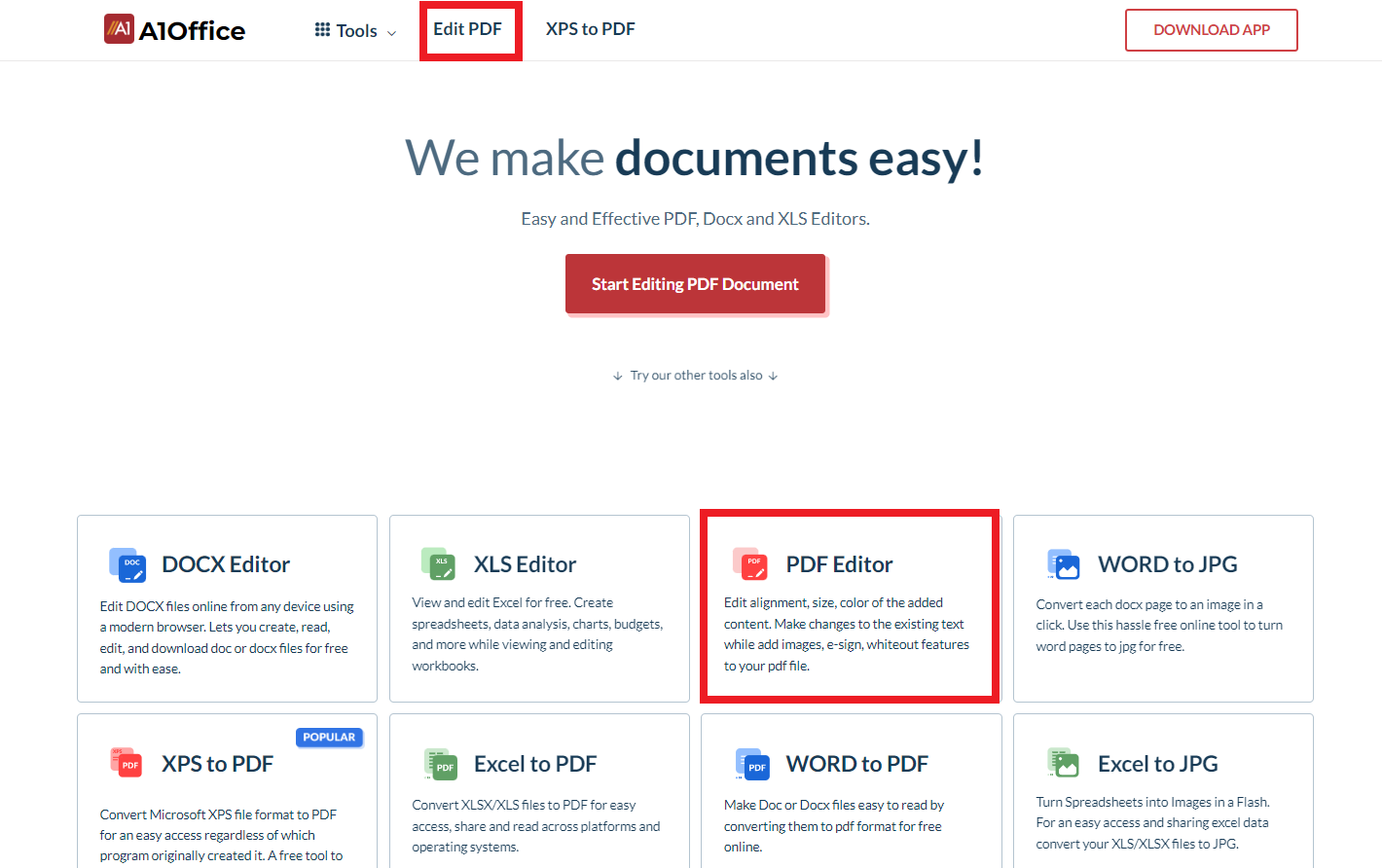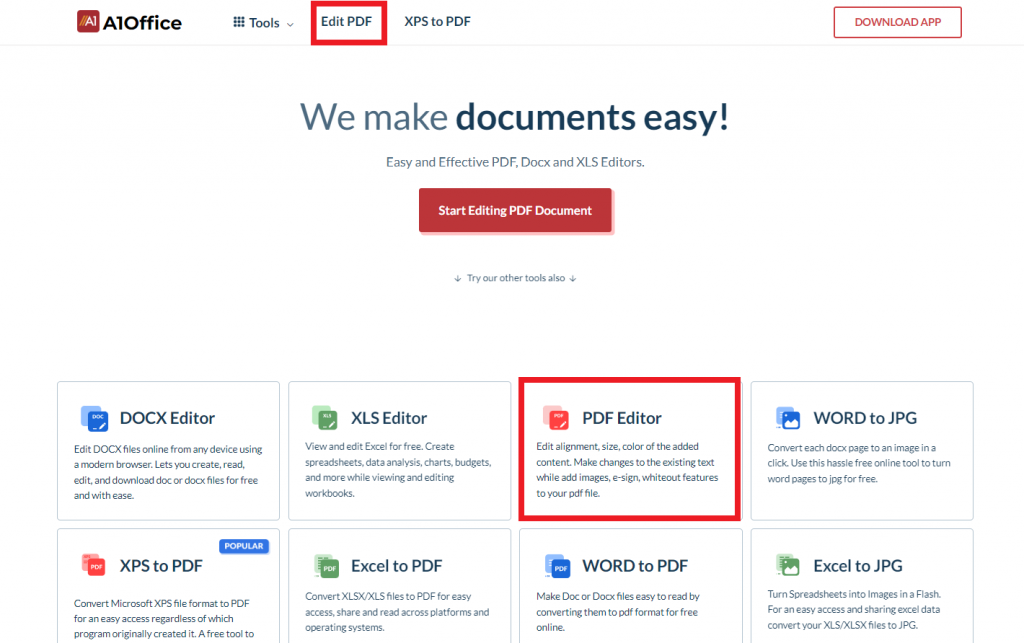 After that, the online pdf editor screen will display as shown below.
Here, you can select Choose File option or you can drop the file.
Select "new signature" under the "E-sign" option in the pdf editor's top menu.
After that, Create Signature window will appear. Here you can type, draw or upload your digital signature.
Insert your signature in the pop-up window as per your choice.
Now to add your signature, click the Save Signature button.
To insert an e-signature, click anywhere on the pdf.
You can drag the signature to change its size and location on the pdf as shown below.
After that, you can download your pdf by clicking on the Download button in the top right corner.
Conclusion
You can drag and drop pages of already-existing PDFs into the A1Office PDF editor to add or modify them in various ways, such as writing on PDFs, typing on PDF documents, inserting text into PDFs, creating PDF drawings, etc. Anyone may easily modify or create on PDF documents thanks to the user-friendly interface of our A1Office PDF Editor.
Your data's security is completely ensured thanks to a high level of protection. File transfers and our website are both secure. We advise giving A1Office a try if you discover that you need an online pdf editor e-sign tool that is simple to use and dependable. Check out A1 Office if you're looking for a safe and simple electronic and digital signing tool.
To get instant updates about online pdf editor and to explore more about A1Office tools, you can check out our website A1Office.
FAQ
Can I draw digital signature online?
Yes, you can draw digital signatures online. We are here to give you access to the greatest signature solution so you can quickly and securely write, draw, or submit your signatures. With the help of A1Office tool, users may get their documents signed electronically rather than through a laborious pen and paper process, which increases their productivity.
Are Digital Signatures reliable?
Yes, digital signatures are trustworthy. Any PDF viewer can be used to validate and authenticate digital signatures. A digital signature is incredibly difficult to alter or manipulate. Though different sources may or may not consider digital signatures as authentic but for general signing you can use an online pdf editor to e-sign documents online for free.