Do you need to make some changes to a PDF file or Edit PDF Online free but don't have the time or money to go out and buy a software program? Don't worry, You can always use an online PDF Editor. But, if you need a more powerful online PDF Editor, we highly recommend A1Office which offers plenty of online tools that will let you edit PDF Online free!
In this blog post, we will introduce you to A1Office PDF Editor's seven different tools that you can use right from your web browser to Edit PDF online. So whether you need to add text, images, or signatures to your PDFs, these tools will have you covered and help you to get your work done faster!
A1Office PDF Editor has a really amazing toolset that allows users to perform various tasks in no time. A1Office PDF Editor is an absolutely free online PDF Editor that allows users to create new or edit PDF online free without any hassle or struggle. Let's learn more about the amazing tools A1Office PDF Editor is providing to all users to Edit PDF Online.
7 Amazing Tools of A1Office PDF Editor
These 7 tools of A1Office PDF Editor will help you sort all your PDF related problems. It is one sole solution for all your PDF Editing problems. It will help you Edit PDF Online free. Let's look at the tools.
1.Edit Text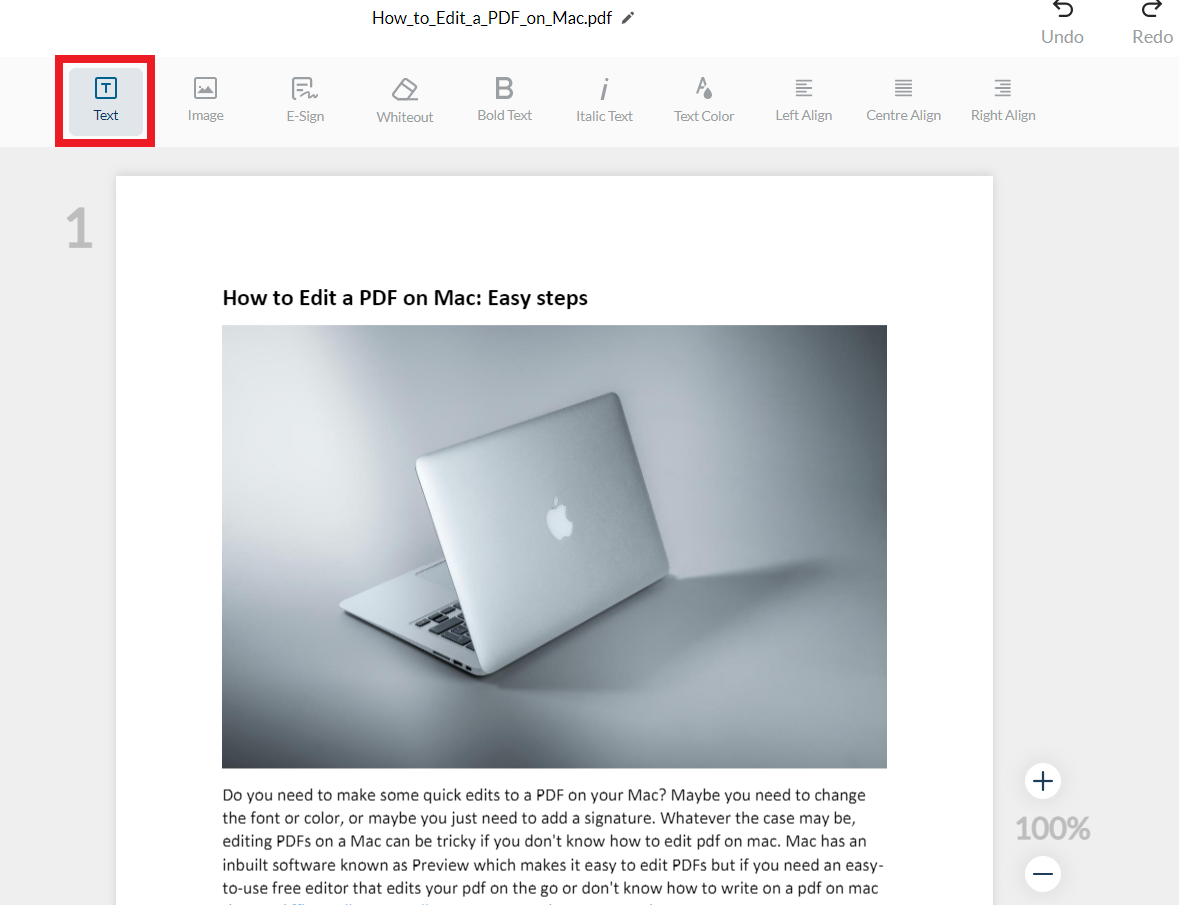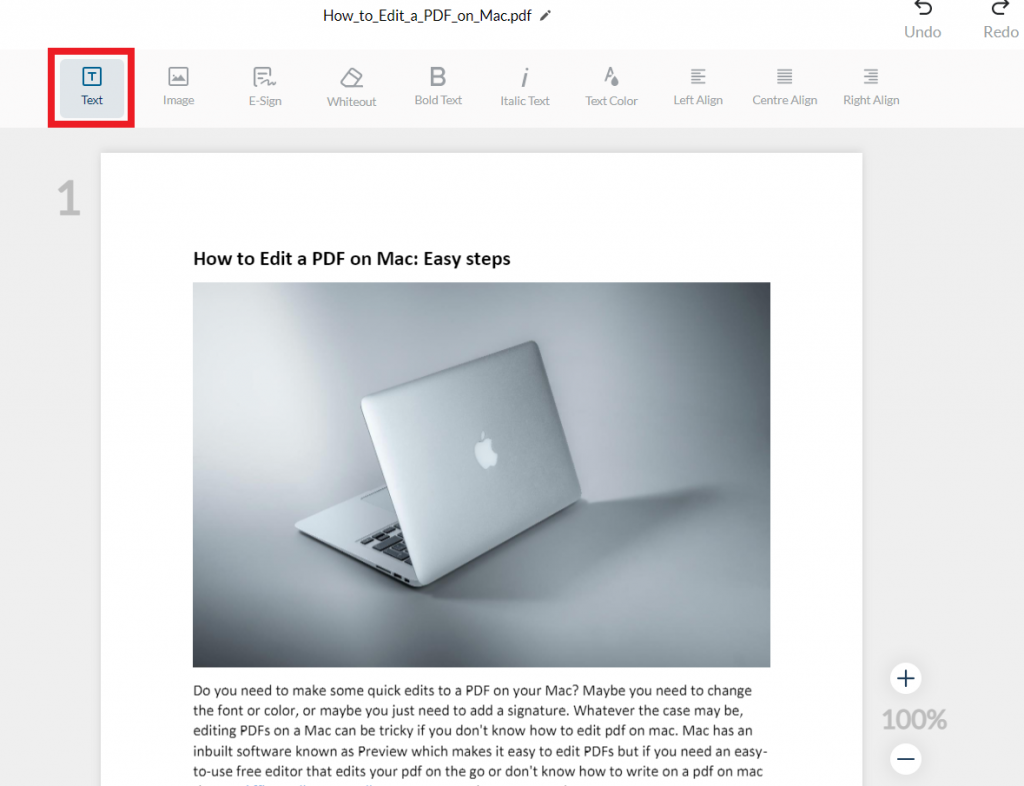 Editing Text has never been easy in PDF files. Whether it's a professional document or a personal file, typo errors in PDF documents make everyone scratch their heads in irritation. Well, A1Office is here to save you.
The edit text tool helps you to edit text in a PDF whether it's changing the whole text or fixing some typos.
The edit text tool allows users to not only edit but also add new texts to the PDF Document.
2. Add Image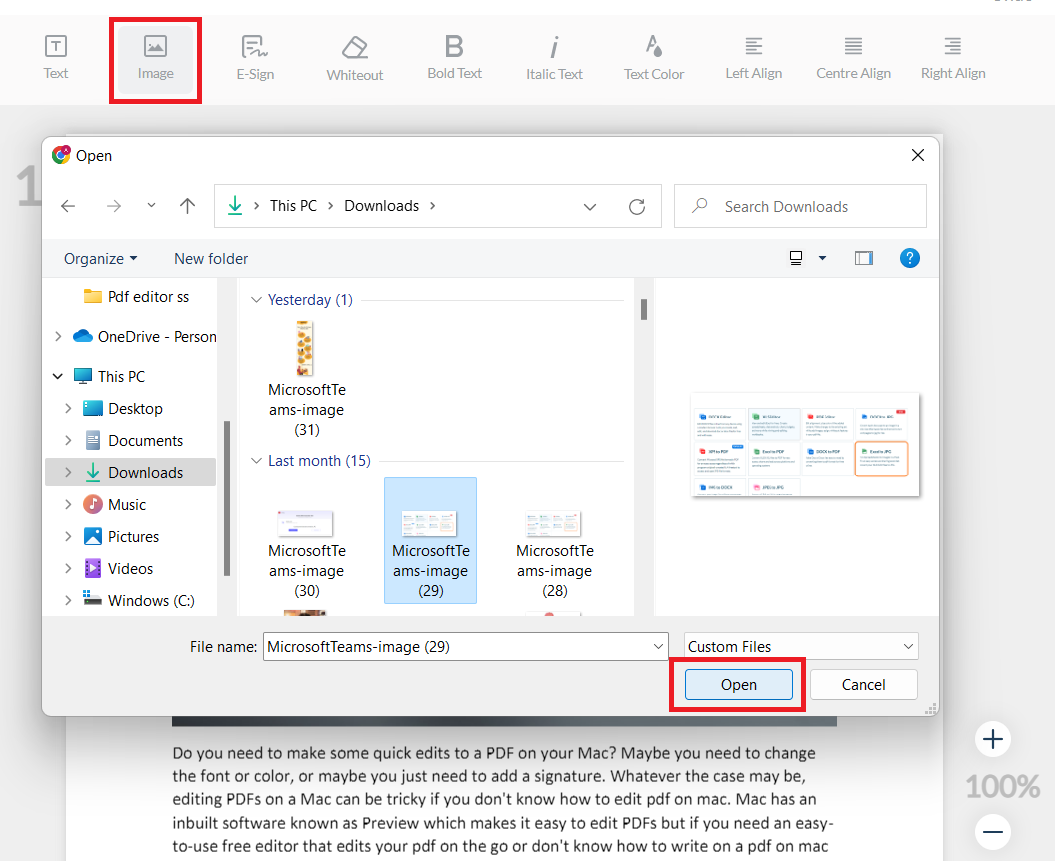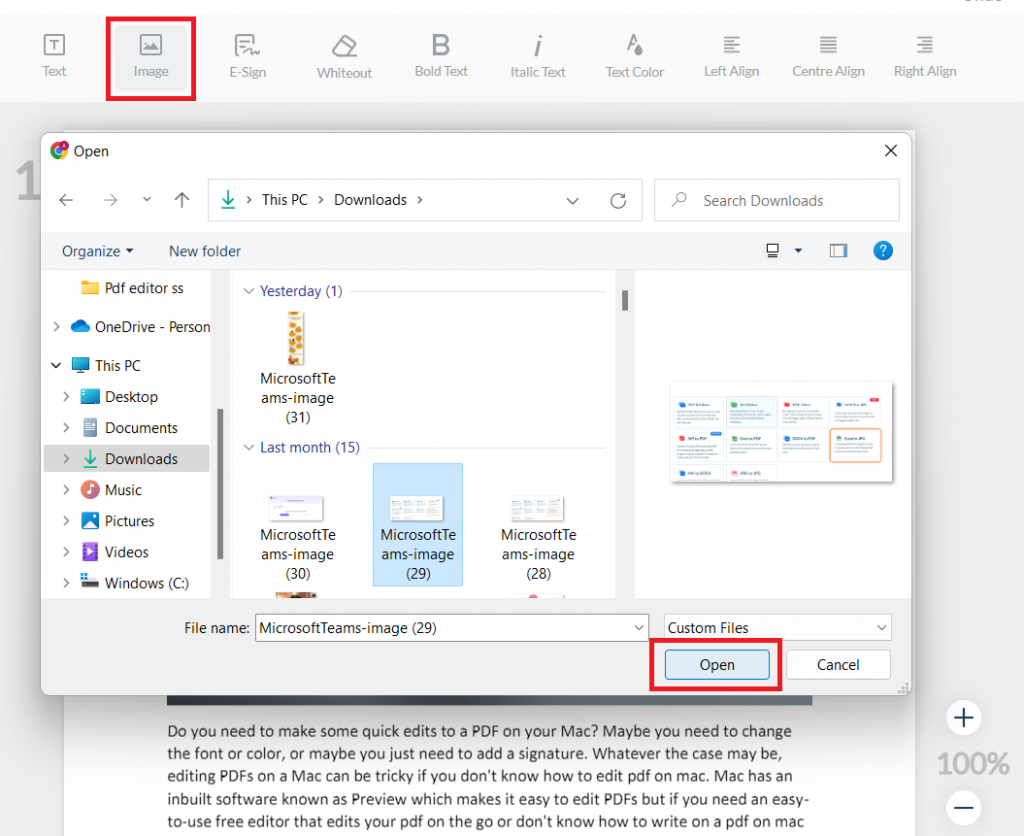 The add image tool allows users to add and edit images in the PDF document. Editing images in PDFs has always been a tough task for users but now, You just need to select the add image tool and you can add any image from your system just by simply locating it. Add image tool helps you to provide visual aid that supports your content in the PDF which is really important and beneficial for a really well structured and professional looking PDF Document. Now, you can add new images as well as edit the existing ones in the PDF documents.
Whether it's professional work like Adding a company's logo, Adding graphs, diagrams, and charts, or personal work: Creative image editing.
The add image tool also enables you to add graphics to your PDF document so you can easily Edit PDF online free easily.
3. Add Signature tool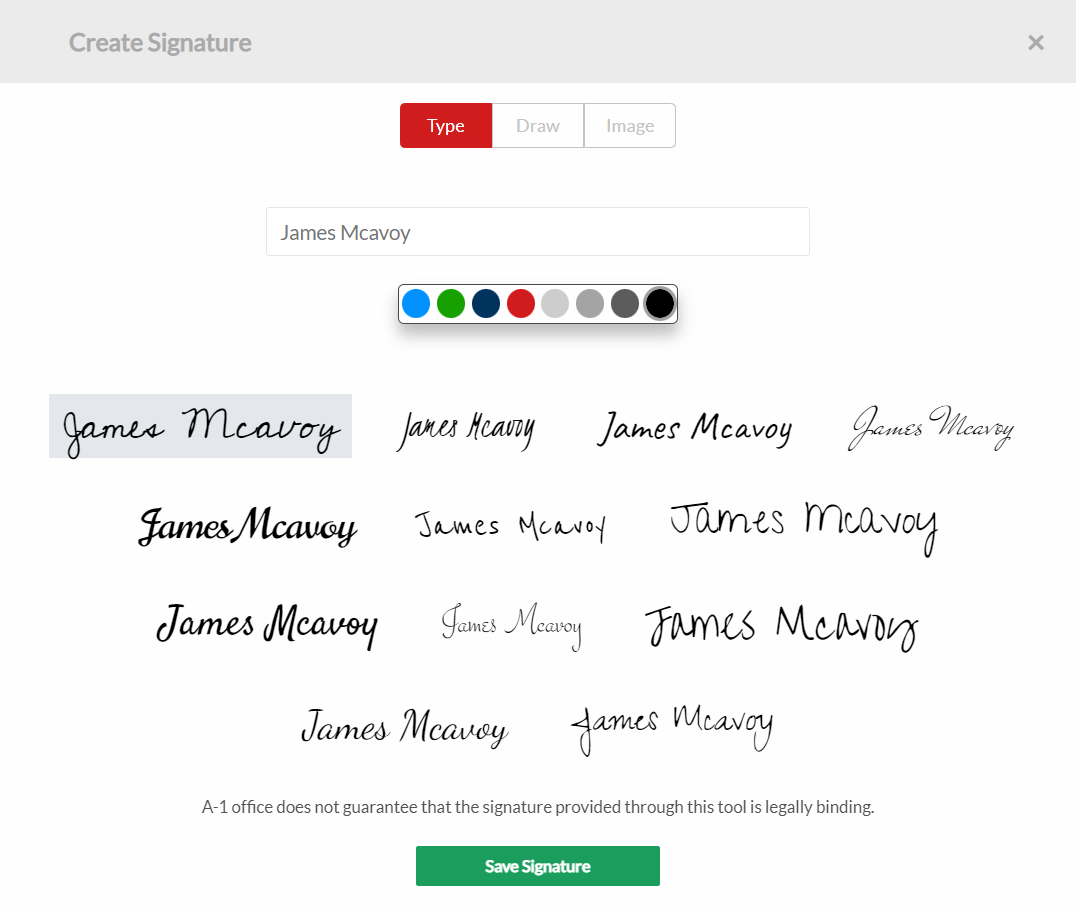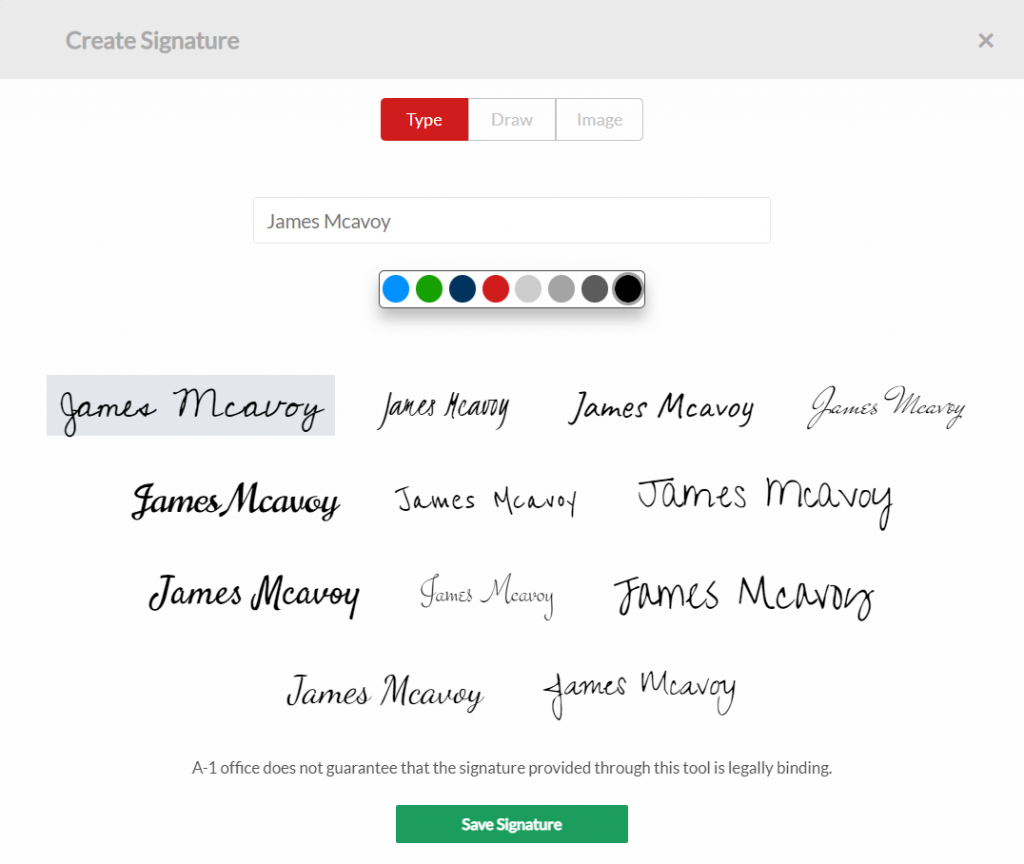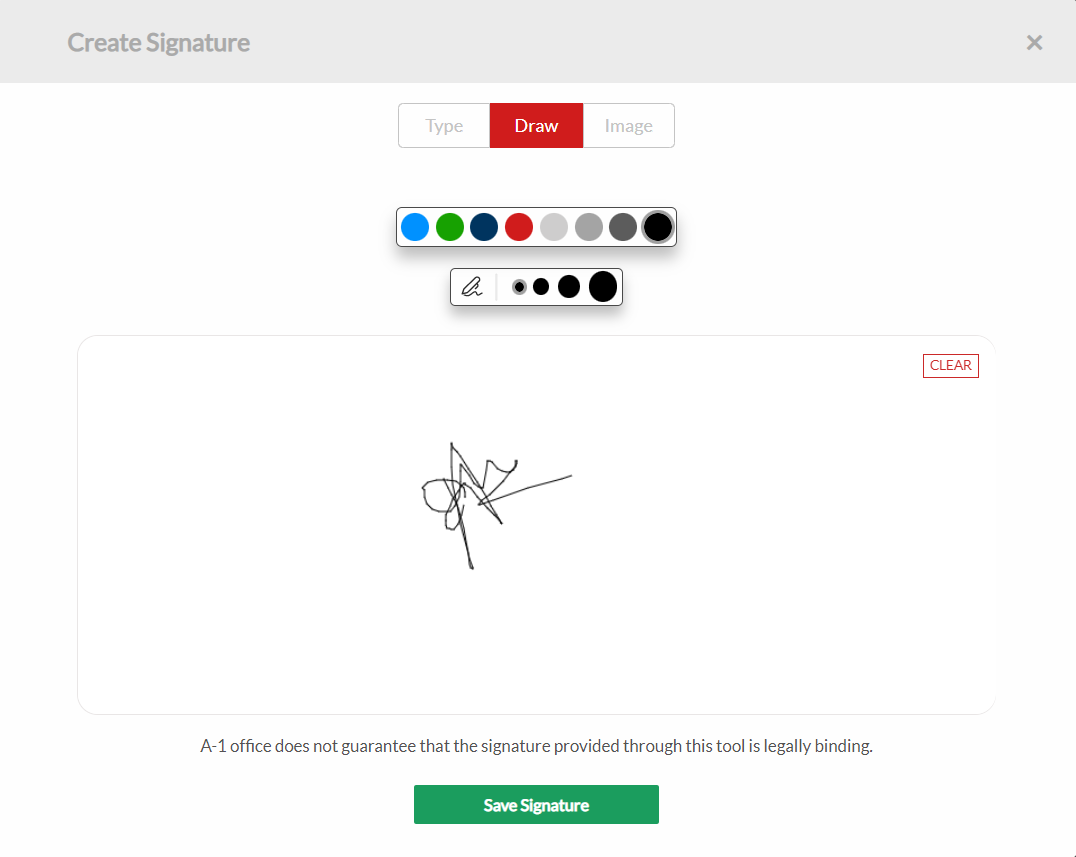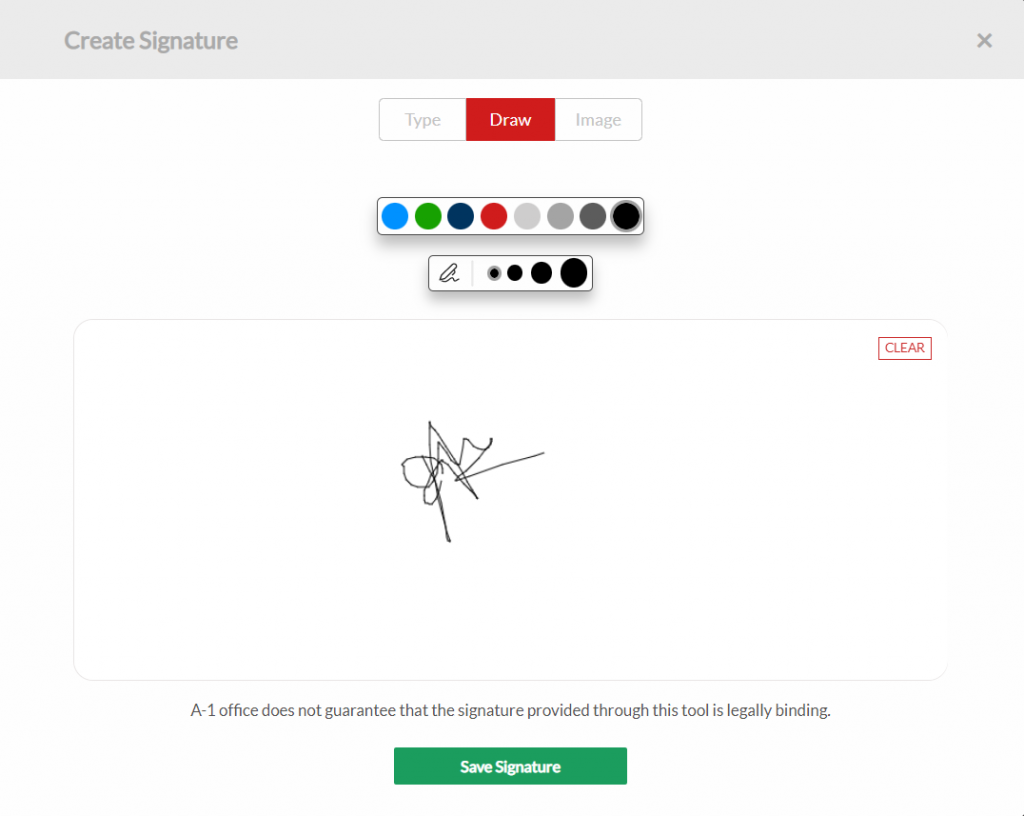 Need to sign a document but working from home? A1Office PDF Editor's add signature tool helps you to add signatures to your important documents.
Whether it's a professionally important document or you just need to add a personal touch to your letter, the Add Signature tool helps you to either add an image of an existing signature or you can add a new signature.
So save yourself some time and enjoy this hassle-free experience of adding signatures to PDF documents.
4. Whiteout tool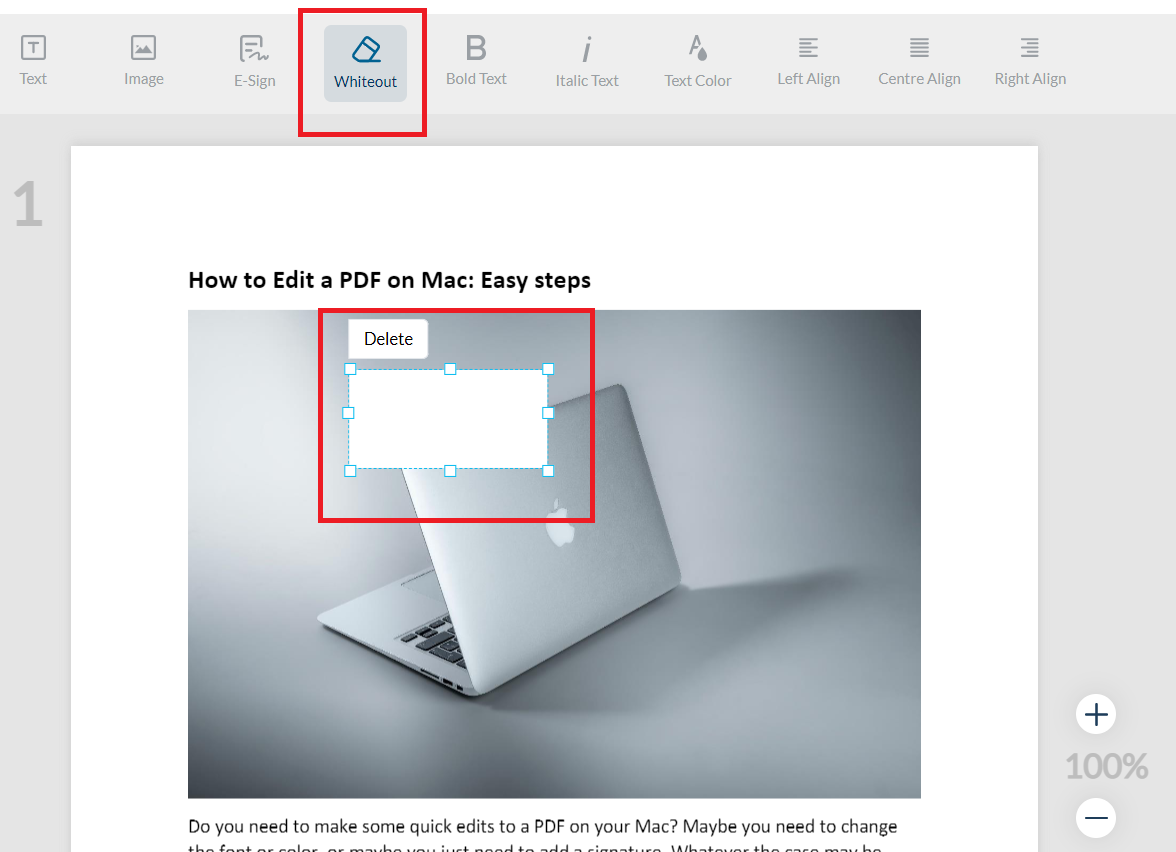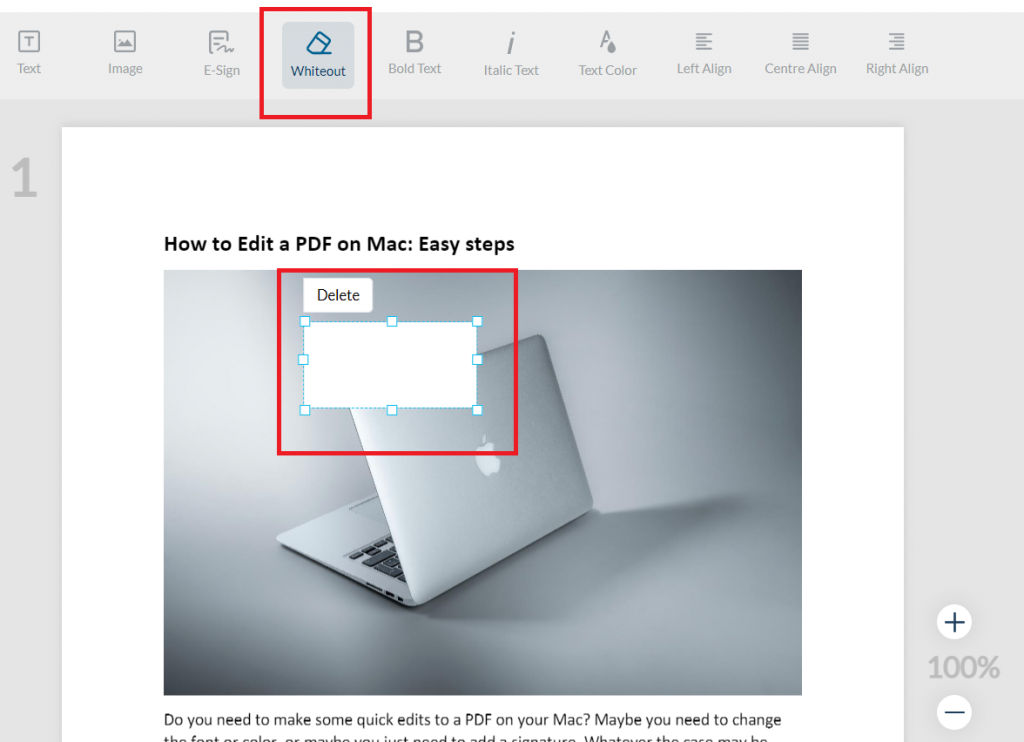 Some PDF files might contain some really sensitive information, but how can you share the PDF document without letting out the sensitive information? That's where the Whiteout tool steps in.
The whiteout tool helps you to basically hide or white out the sensitive information in the PDF document. So, you can share the documents even if it contains some sensitive information by whiting it out in the A1Office PDF Editor.
5. Bold Text Tool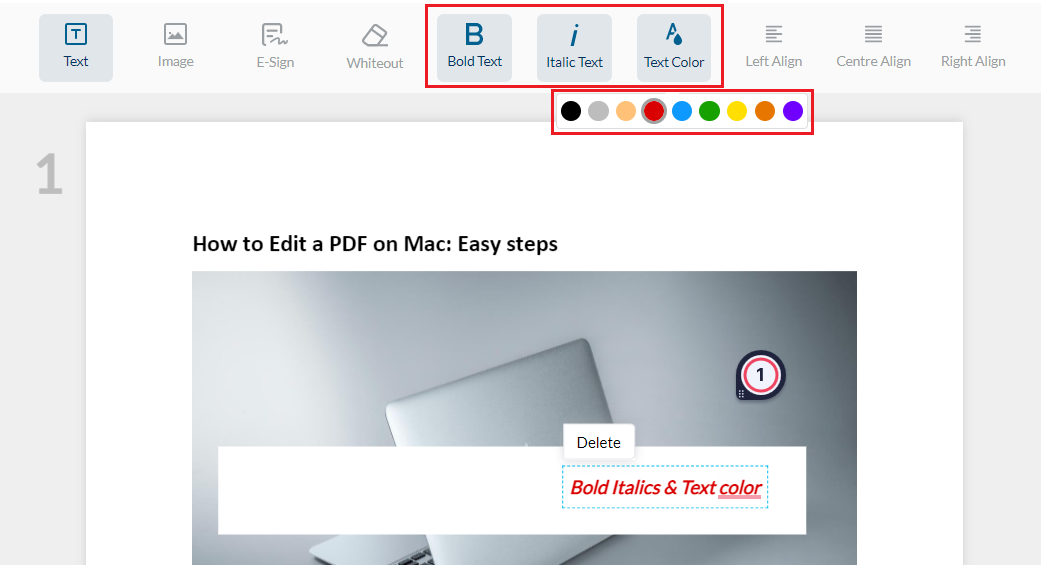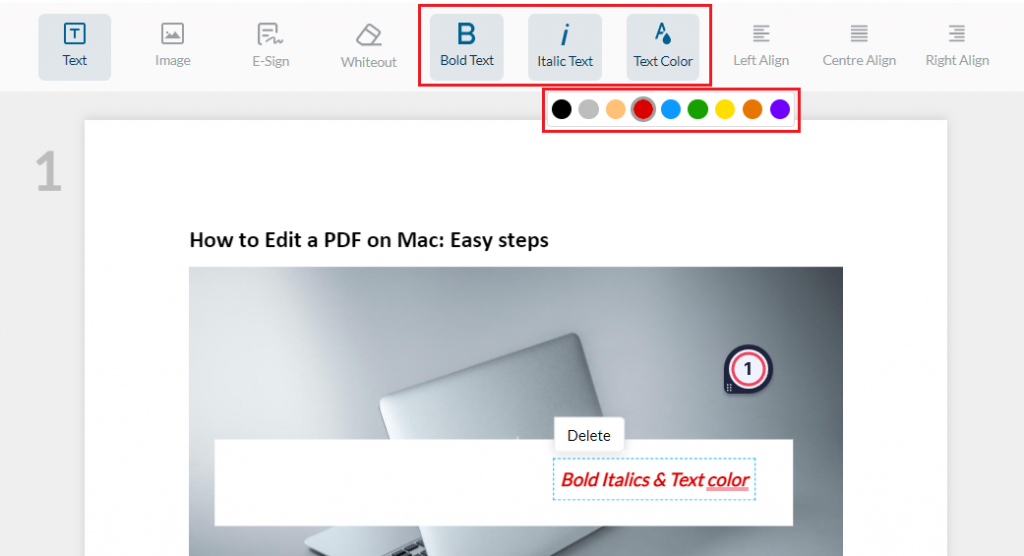 Bold text in PDF Documents is to make it stand out and to call attention to it. And I would agree that is the correct purpose. Between many paragraphs, there are some sentences or just words you want your readers to read with full attention. A single bold word in a paragraph results in high contrast.
A1Office PDF Editor's Bold text tool allows users to bold the words and sentences that hold the most importance among other elements.
A bold text tool will help you to gather the attention of your readers, it makes them think that this is the part that needs the most attention.
6. Text Color And Style tools
What saves PDF Document from being boring and hard to read? Different style and size of font in the PDF document. If you use different sizes of the font for different sections it'll be more interesting to the eyes of the readers.
A1Office Text Size and Italic Text Tool allows users to change the size of specific parts of a text, even if it's an alphabet, a word, a sentence, or a whole paragraph.
You can make the text italic or make the size smaller or bigger and make the PDF document your best creative work.
7. Alignment Tool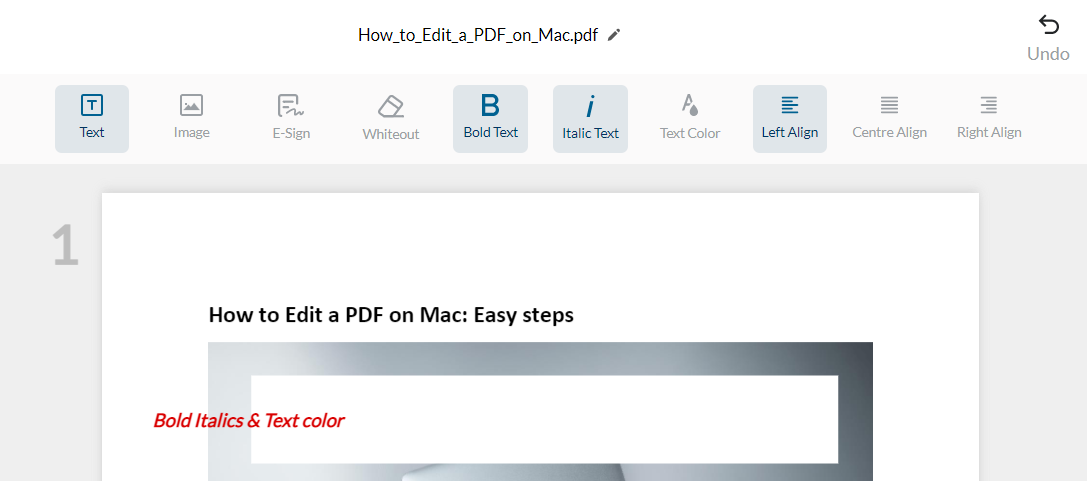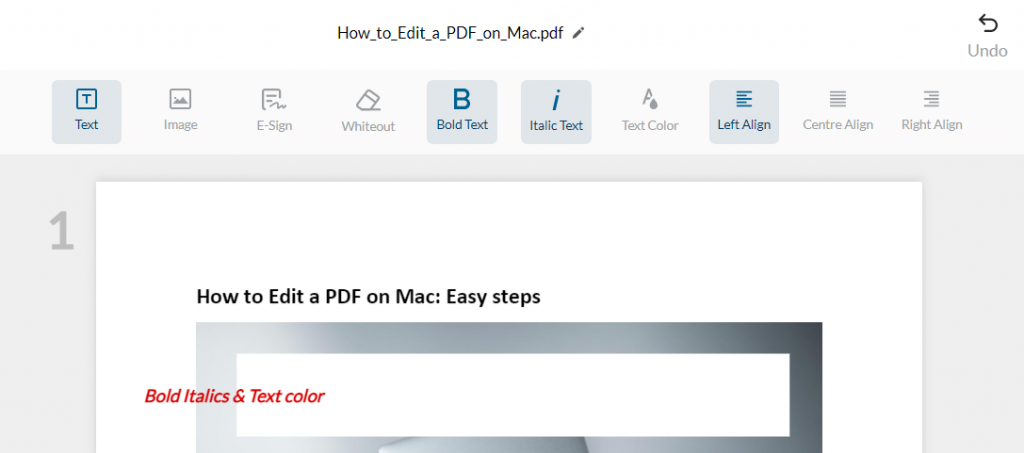 What makes a document well managed and neat other than the texts? The right and correct alignment to your text and content. A1Office PDF Editor's Alignment tools allow users to choose and select the right and correct alignment for their content to make it look neat and well organized.
A1Office PDF Editor that lets users edit PDF online free is one of the easiest way to perform various tasks with such amazing toolset and functions. Edit PDF online free with A1Office and make your best work. These were some of the amazing tools that come in handy while you Edit PDF online for free.
Conclusion
If you're looking to make a few quick changes to a PDF or want to completely overhaul one, A1Office is the perfect online tool for the job. With A1Office's free and easy-to-use editor, you can quickly make all of the necessary changes, Edit PDF online free and have your updated document ready for download in no time.
A1Office offers easy edits to your PDFs without having to purchase or download any additional software. A1Office is a free online PDF editor that lets you make changes to your documents and edit PDF online free with ease. Plus, our simple and intuitive interface means that anyone can use it – even if you don't have any prior experience editing PDFs. So why not give it a try today? Head on over to our website and start editing your documents now!
Check out our other blog on "How to Easily Edit PDF Files Online".
FAQ
How can I edit my PDF file for free?
There are many ways to Edit PDF online free, but the best way is using A1Office online PDF Editor. With our easy-to-use editor, you can quickly make all of the necessary changes and have your updated document ready for download in no time. A1Office online free PDF Editor is the best tool for anyone looking to edit PDF files for free. You don't need any registration or subscription it takes no time and less effort to edit PDF online free. You just need to open A1Office.co and edit any pdf for free as many times as you want. it is really easy.
Can you edit PDFs in Word?
It is not very common or feasible to edit PDF in word. But, Yes there is a way to edit PDF in Word all you need to do is follow these steps :-
In Word, head to File > Open and then navigate to the PDF file that you'd like to edit.
Word will automatically convert the PDF into an editable Word document. Once it opens, make any edits you need to.
Head to File > Save As. In the "Save as Type" dropdown menu, choose PDF, not the Word Document format. Now you have an edited PDF document to share as you please.
However, We recommend using an online PDF Editor which is both free and easy to use and is easily available works on every browser. There are many PDF Editors to Edit PDF online free, but the best way is using A1Office Online PDF Editor. With their easy-to-use editor, you can quickly make all of the necessary changes and have your updated document ready for download in no time.