Doc vs Docx: A Brief Introduction
If you have been using the Microsoft Word application, which is a word processing program that allows for the creation of both simple and complex documents, then you are probably familiar with .Doc and .Docx file formats — to put it simply you definitely know about the Battle of the Microsoft Word File Types: docx vs doc.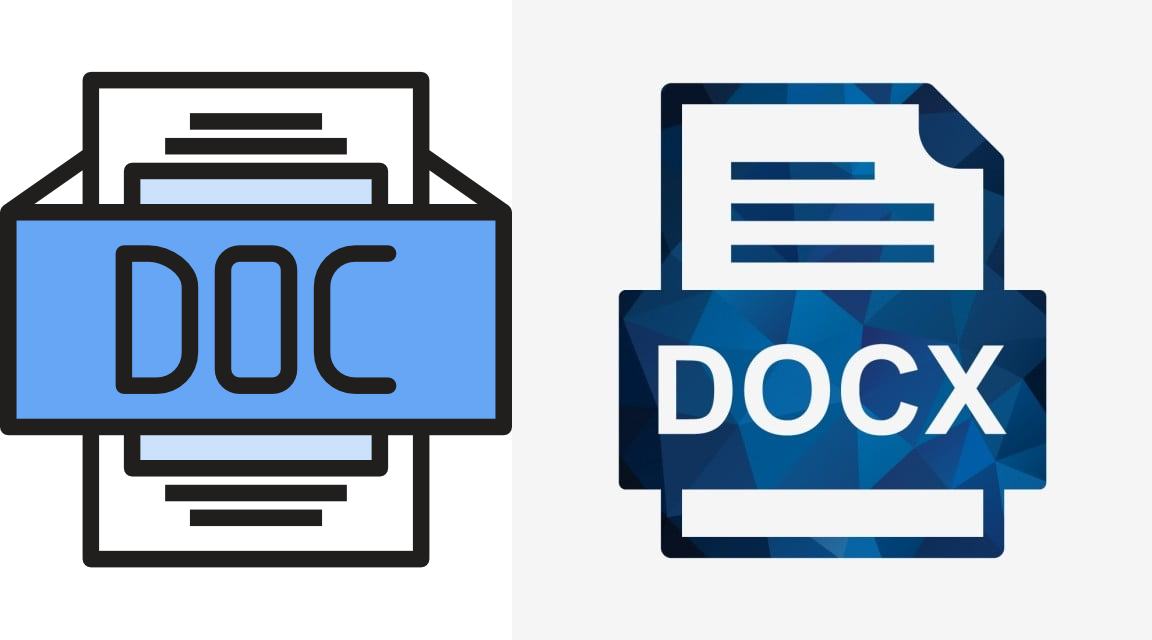 Following are the differences between doc and docx
| | | |
| --- | --- | --- |
| Difference | Doc | Docx |
| Compatibility | Made in 2003 word (older version) | Made in 2007 word (recent version) |
| Storage | Storage done in a binary file containing formatting info. | Storage done in a zip file containing XML files |
| Features | Doc file does not allow you to work with new features | Docx the newer version allows you to use new features |
| Standards | Open Standard | Proprietary |
You may have come across files with the. Doc extension and others with the. Docx extension when working with Microsoft Word documents. So, what are these doc vs docx files and what are the doc vs docx differences? And, when it comes to document creation, should you choose one over the other?
Doc and Docx are two common word document formats. Both were created by Microsoft and are supported by practically all word processors. These Microsoft Word file formats can be used to store images, tables, formatted text, charts, and more. Any platform, just like A1Office Docx Editor Online Tool can help you open, create and edit documents online.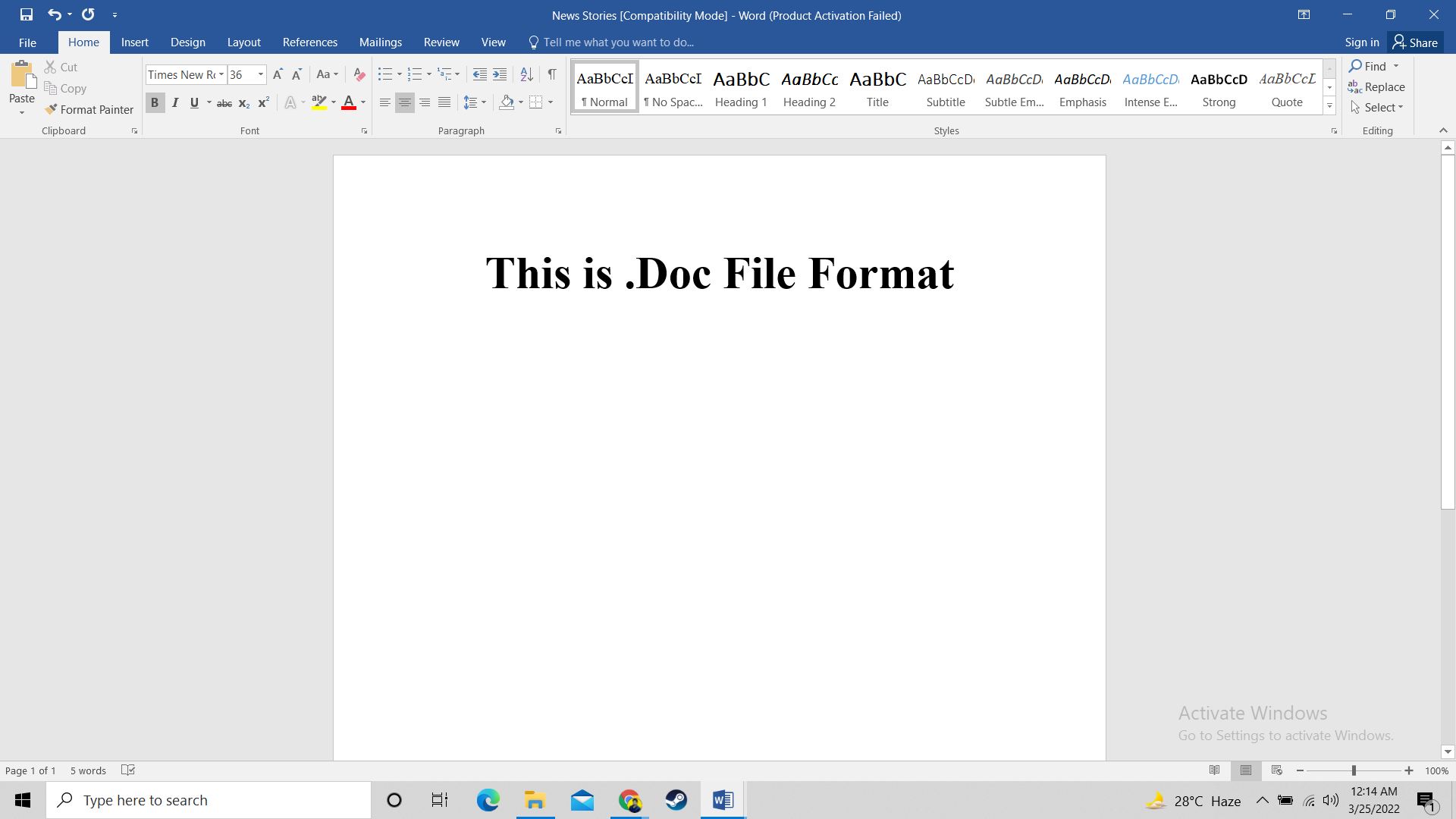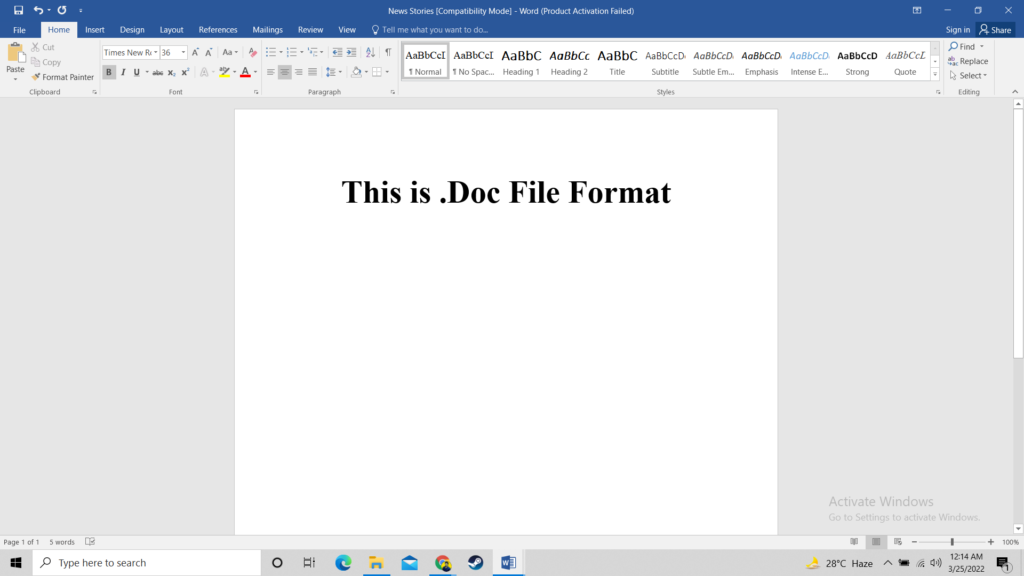 The Doc file made in Word 2003 opens in "Compatibility Mode" while the Docx is a 2007 file. Developed as a successor to .doc extension, the .docx extension is a Microsoft Word XML Format Document file. The coding work for .Docx was done in XML.
The main doc vs docx differences are that the storage of a document in .Doc is done in a binary file that contains all the related formatting information whereas the storage of a document in .Docx is done in a zip file that also contains all the XML files related to the document.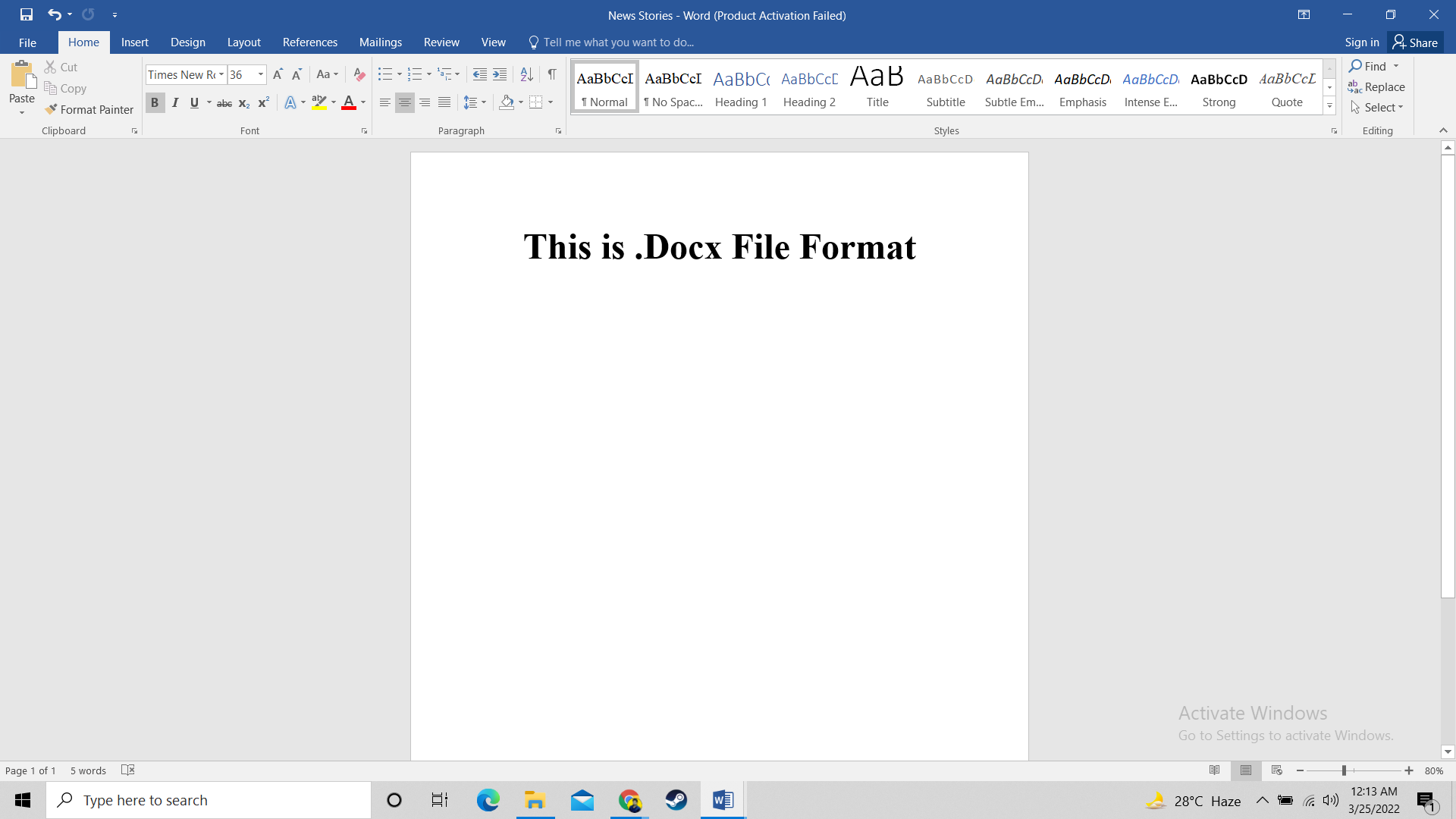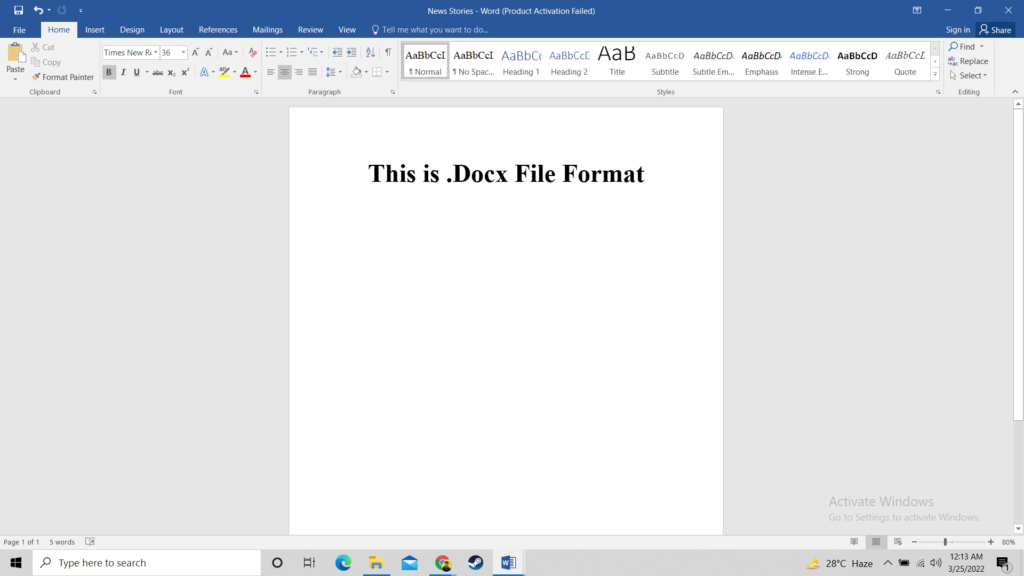 The .Docx file cannot be opened in Word 2003 and older versions without a compatibility pack. The Docx file is an open standard while Doc file is proprietary. Docx file allows you to work with new features but Doc file cannot. The differences between docx vs doc are extensive. Doc is the older file format. It has been replaced by the newer Docx.
Lets look at this infographic for a precise difference between the two file formats: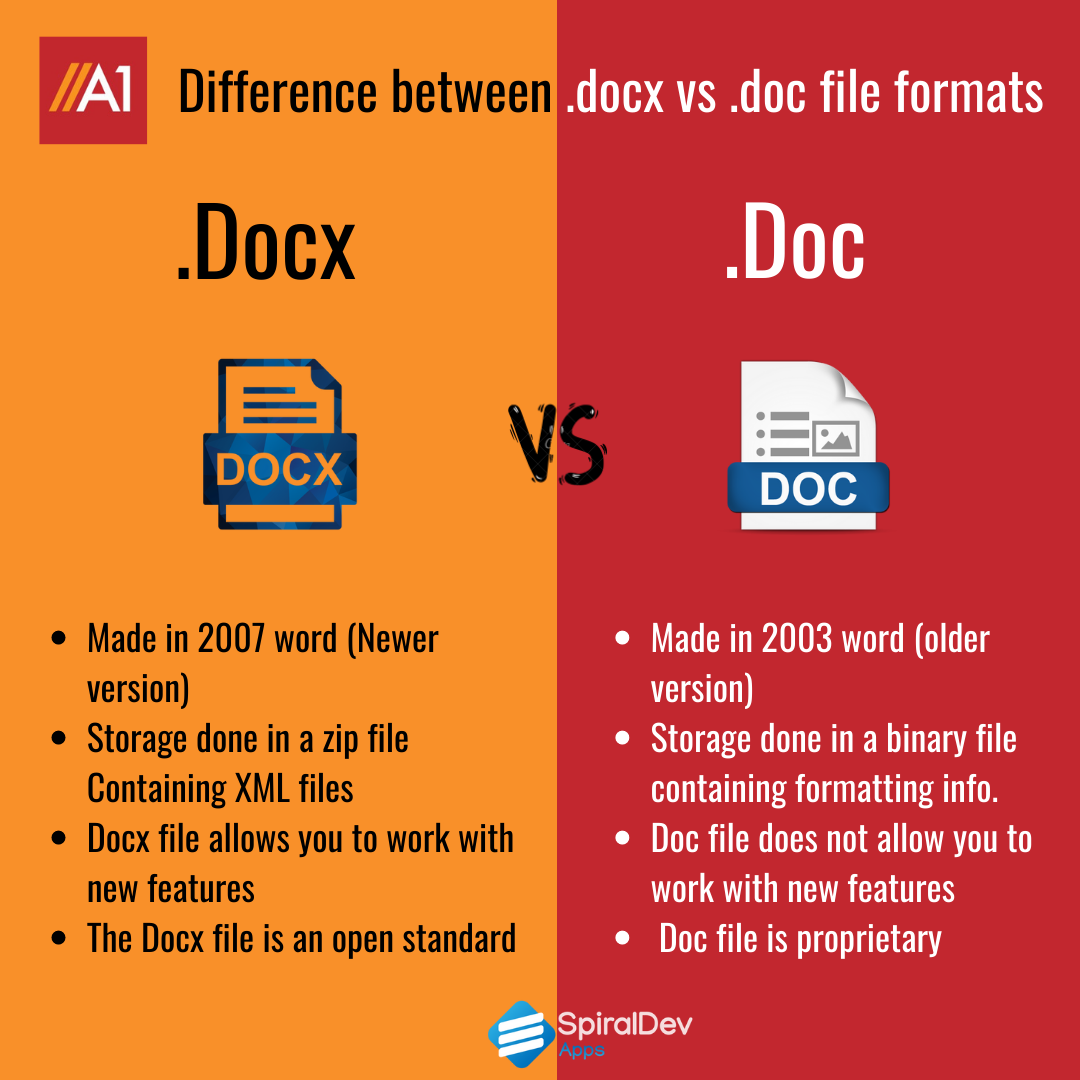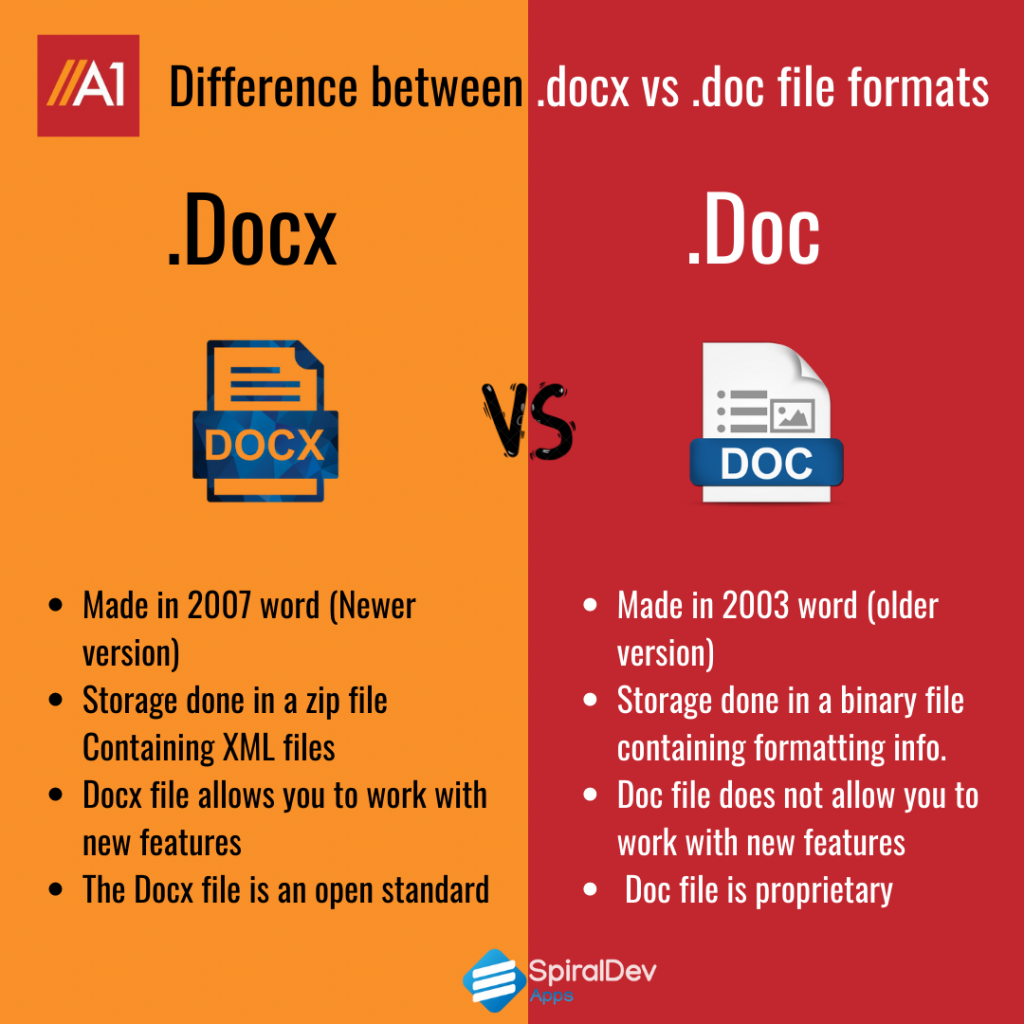 Doc vs Docx Security: What's more secure?
The .Docx extension has now been included in many free and paid document processing programs. You can use the Online Conversion and Editing Tools just like A1Office Docx Editor Online Tool to open Docx files and edit them.
As mentioned, the .Docx file format was developed by Microsoft as a successor to Doc. In the Word 2007 update, the default extension of files was changed to Docx. It was done due to rising competition from free and open-source formats like Open Office, ODF etc.
Considering .doc vs .docx usability and applications, Docx is more secure. It is hardened against macro viruses, which is good for people who share documents. The Docx files can be significantly smaller in size and can open faster on the computer. The newer version of Microsoft Word is more reliable and is much less sensitive to file corruption when passed around. The Docx file format is future proof which means it is portable to both web and mobile-based applications, just like its compatibility with A1Office Docx Reader, making it future-proof.
Docx Vs Doc: Which is the Better Option?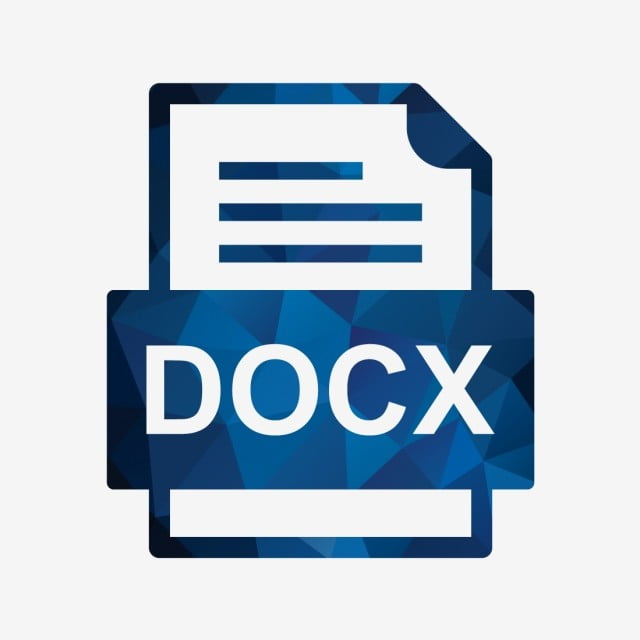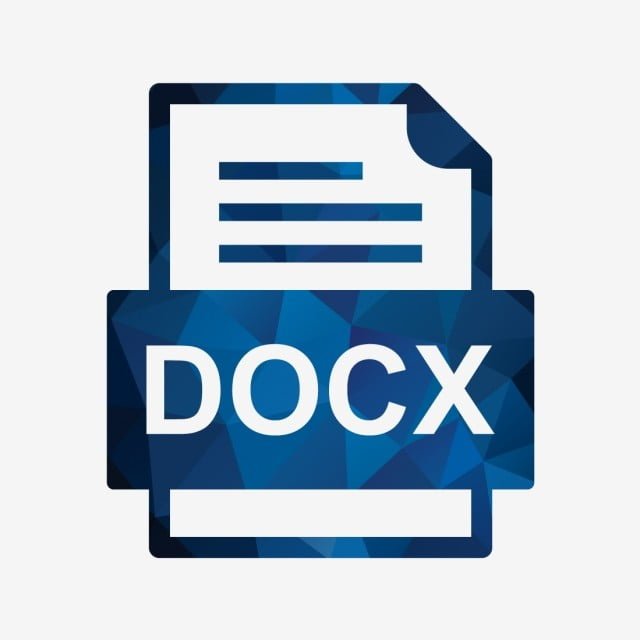 You might be asking, "Among Docx vs Doc, which file format or file extension should I use?" The answer to this question depends on just one single factor. This is determined by the version of Microsoft Word that is currently installed on your computer.
If you have a Microsoft Word version from 2003 or older, your documents are saved in a .Doc file format, while Microsoft Word 2007 and older saves documents in .Docx. Docx is the default file extension for the Microsoft Word version currently in use.
Now when we know that .Doc is a document format used by Microsoft Word, while .Docx is its successor. If you are given the option to choose between them, the best bet is to go with .Docx format. For about every situation Docx is the better option. Documents with the .Docx file extension are much smaller and lighter compared to the .Doc file format. This allows you to read documents with more ease. It also makes it easier to transfer. You can have the same two documents, but end up with two different sizes depending on the file extension. For example — the file with the .Doc file extension will be 1.39 MB, whereas the file with the .Docx file extension will be 370 KB.
The nature of .Docx means you can use it with different full-featured word processors. You can open a Docx file with Google Docs. This allows you to open and read the document with Google Docs – something you can't do with .Doc files.
Moreover, third-party office applications don't support Doc files. This is a major limitation of the Doc files. It can pose some challenges if you are looking to share your document with others.
So, which format should you use? If given the choice between Doc vs Docx, use Docx. Docx is recommended to be a better option as it is based on Office Open XML standard, all word processor software supports all advanced features. For these reasons, most software is slowly dropping the option to save documents in Doc format. This format can also be read by any full-featured word processor, including online tools such as Google Docs. Remember, you can use an online converter tool to convert Word documents from one format to the other. Some useful Docx compatible tools can be found at A1Office Suite.
Frequently Asked Questions on Doc vs Docx:
1. What is the difference between Doc vs Docx?
The main difference between .doc vs .docx is their current status. The Doc format has been used by Microsoft until the 2003 version of Word. In Word 2007, Microsoft introduced Docx as the new default format. Users can still revert to using the Doc format if they want to.
2. Doc vs Docx vs Docm
Each extension indicates that the file was created in a specific version of Word.
Doc files were created in Word versions 1997-2003
Docx files were created in Word 2007, 2010 or 2013
Docm files indicate that they include extra functionality in the form of macros in Word 2007, 2010 or 2013
3. What is a Doc file?
The Doc file extension is related to Microsoft Word and was released by Microsoft Corporation in its Word version of 1997 to 2003. This file extension is in the binary file format and is basically composed of frameworks and records that focus on the text, page formatting, graphs, charts, tables, images and other documents whose content is created and edited.
4.How do I open a Docx file on Android?
If you have an Android mobile phone, download A1Office Docx Reader and more similar tools from Google Play Store. Select the Docx file on A1Office Docx Reader open and read it.