Finding a suitable PDF editor which is free and easy to use is not a very easy job. Sometimes it becomes really tough to find the best free PDF Editor to work on. There are many PDF editors out there in the market, Online as well as desktop versions. For example : A1Office PDF editor is an online PDF editor which is absolutely free and works on any browser. It also has a mobile app but online editor is the fastest way to edit a PDF document in seconds without downloading or installing anything.
Both Online and Windows PDF editors have their own Pro's and Con's. Some of the other Online PDF editors are quick, handy and easy-to-use but if the file contains sensitive information, it might be a matter of concern as the file is exposed to the internet.
Similarly, The Window based PDF editors have their own cons like some of them are not free and some have a free trial version which are mostly not well featured. So, It can be a hassle, especially if you don't have the right tools. That's why we've put together a list of the 7 best free pdf editor to help make the process easier for you! These editors are easy to use and will help you edit your documents in no time.
Best Free PDF Editor (Online)
Here are some of the online best free pdf editor:
1.A1Office PDF Editor
A1Office PDF Editor is as quick as it can get, It is the quickest and easiest way to edit PDF Documents online in seconds.
A1Office PDF editor lets you edit your PDF Document effortlessly without needing any registration or installation and is absolutely free. You can edit existing content and add new texts, images, graphics and signatures.
Edit and convert any File into PDF, change the content and add signature hassle free without registering for anything.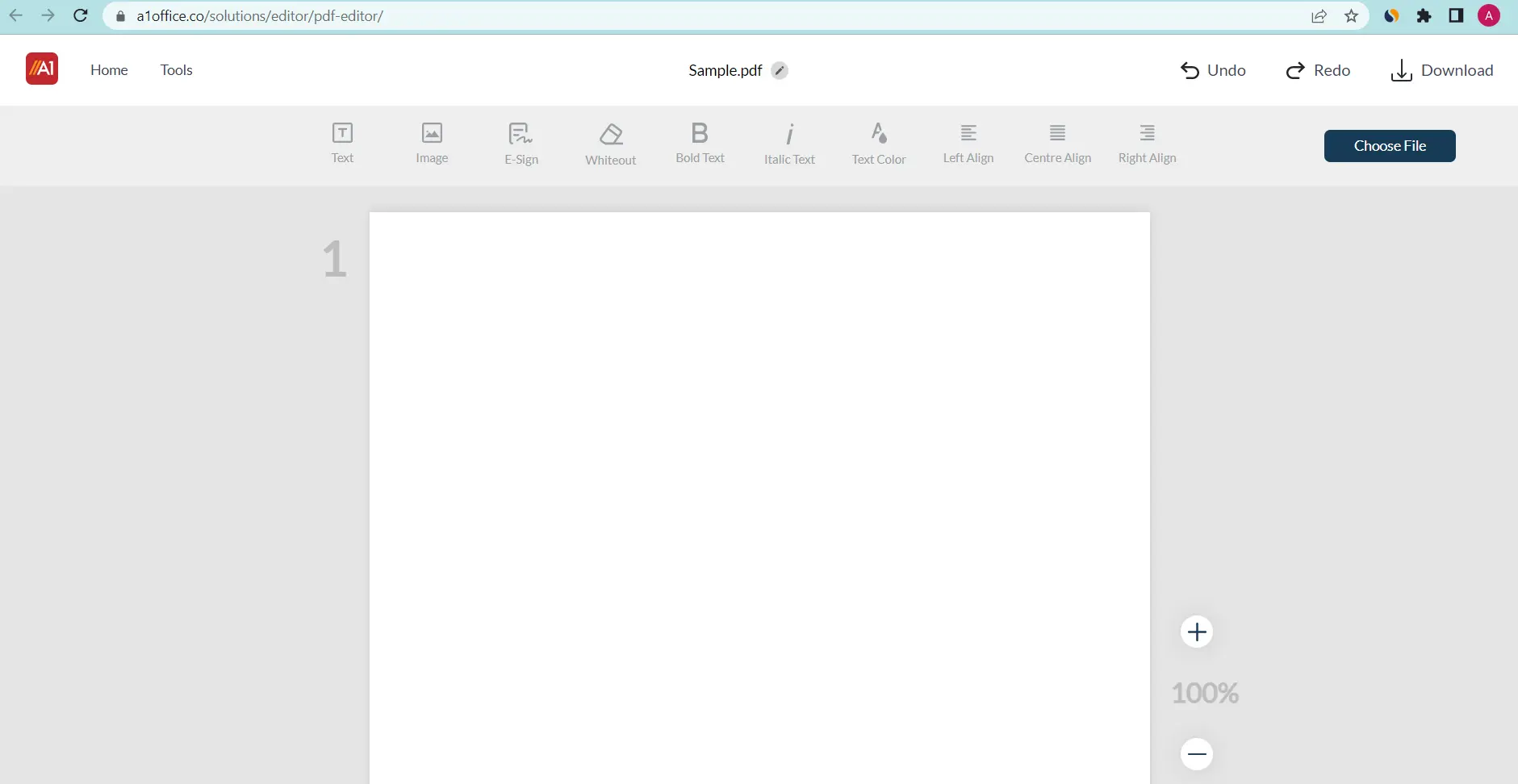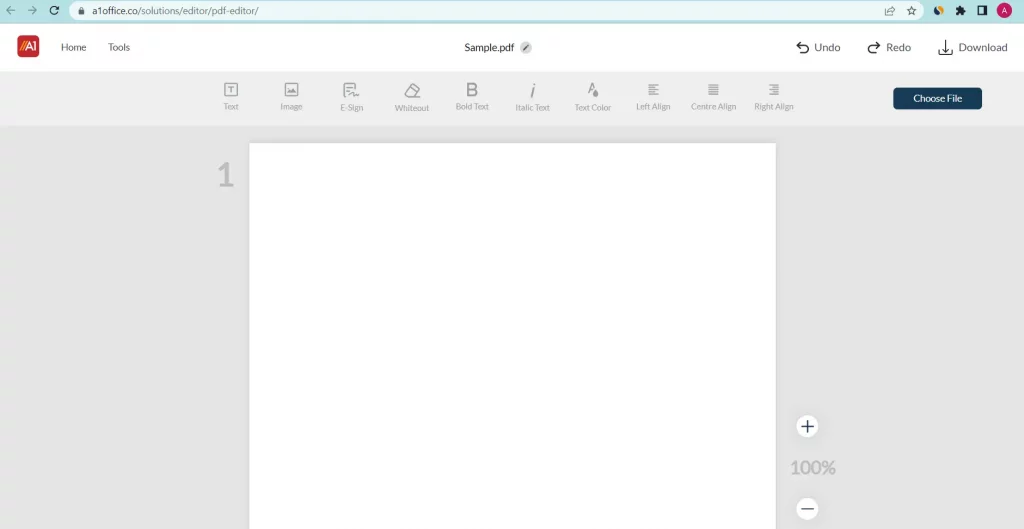 Steps to edit PDF in A1office online PDF editor
Here are some easy steps: How to view, edit PDF files online using A1Office PDF Editor.
Open the file in an Pdf Editing.
Click the Text Tool on the top menu. Add text to the PDF page.
Change the font, alignment, or color of the added text.
Click the existing text to change the original text and start editing.
Add photos to your page. Click and drag to move and resize the image.
Add text and signature to complete the PDF form. Upload or draw the signature image.
Use the whiteout option to hide sensitive information or hide the text in PDF files.
Click Apply Changes to download the edited document.
Pros
Quickest and most efficient way to edit PDF.
It does not require any subscription, registration or any sign in.
A1Office is absolutely free and easy to use on any web browser.
Cons
It does not have markup and annotation feature yet.
2.PDF Buddy – Handy PDF editor
PDF buddy is one of the best free PDF editor ,it lets users perform various tasks like, Filling out forms, add signatures , whiteout and highlight without breaking a sweat.
It is really efficient and works on almost all web browsers. There's no software to install, only the web browser you are using right now.
As its name suggests, It is actually very handy and also absolutely free of cost.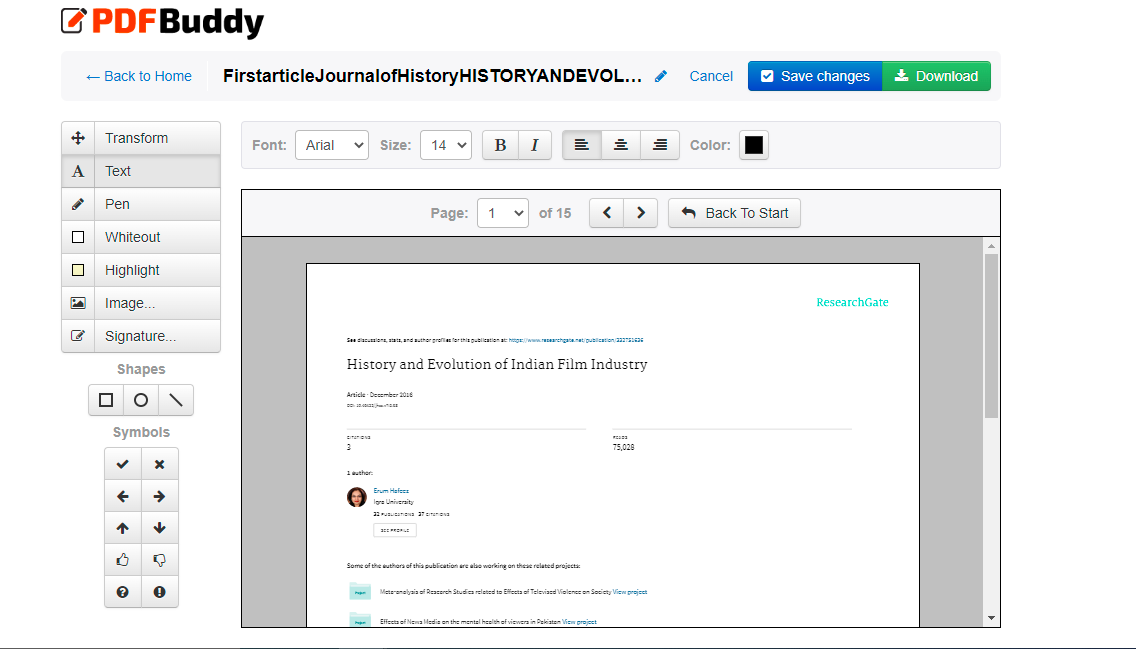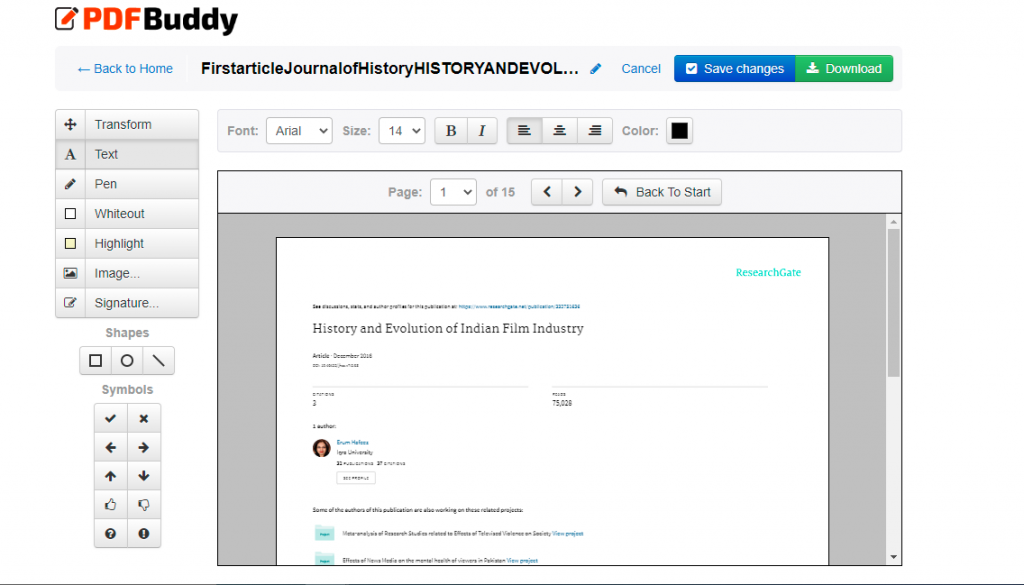 Pros
Uploading and editing of documents and files is really easy using PDF buddy.
It is absolutely free of cost and does not require any costly subscription or package. Just upload the file and start editing.
It is very feasible and easy-to-use. You can sign up within a few minutes.
Cons
It has very few limited features compared to other online PDF editors.
If a document contains sensitive information there's a bit of risk as everything is done online.
3.Small PDF – PDF Editor, Converter & Compressor
It offers a wide range of features for free like merging and splitting of PDF files, compressing the size of large PDFs, converting office documents into PDFs etc.
The best thing about Smallpdf is that it 's very user-friendly and easy to use. It is one of the most popular free PDF editor as it offers a wide range of features for absolutely free.
You can work and edit PDF documents completely free without any installation or download. It is really quick and convenient.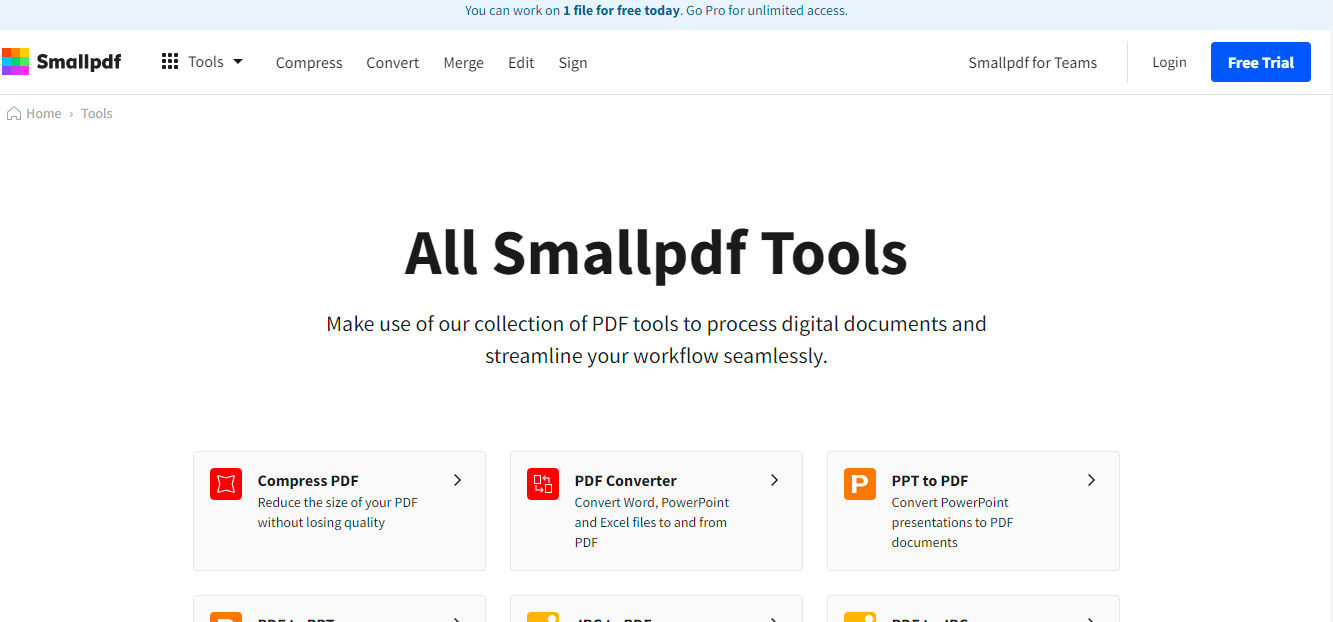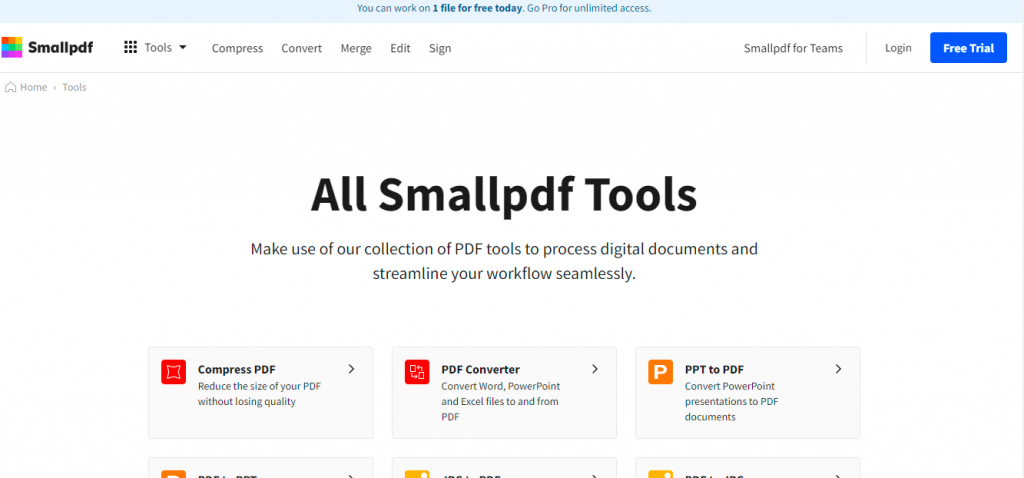 Pros
SmallPDF has a compressing tool that compresses large PDF files.
It has various creative editing tools for hassle free editing.
It can load and save from different sources and is completely free.
Cons
A default name will appear on the file when saving it. You cannot change the name while saving it.
It does not support large PDF files.
It only allows two edits in a single day.
4.Sejda
Sejda Web Works in the browser. Our servers process the files for you. Files stay secure. After processing, they are permanently deleted.
Sejda is one of the best free PDF editor online, It is really easy-to-use , easy-to-understand and work on.
Sejda allows users to add hyperlinks. It is well featured and has a great set of tools to let you edit documents effortlessly.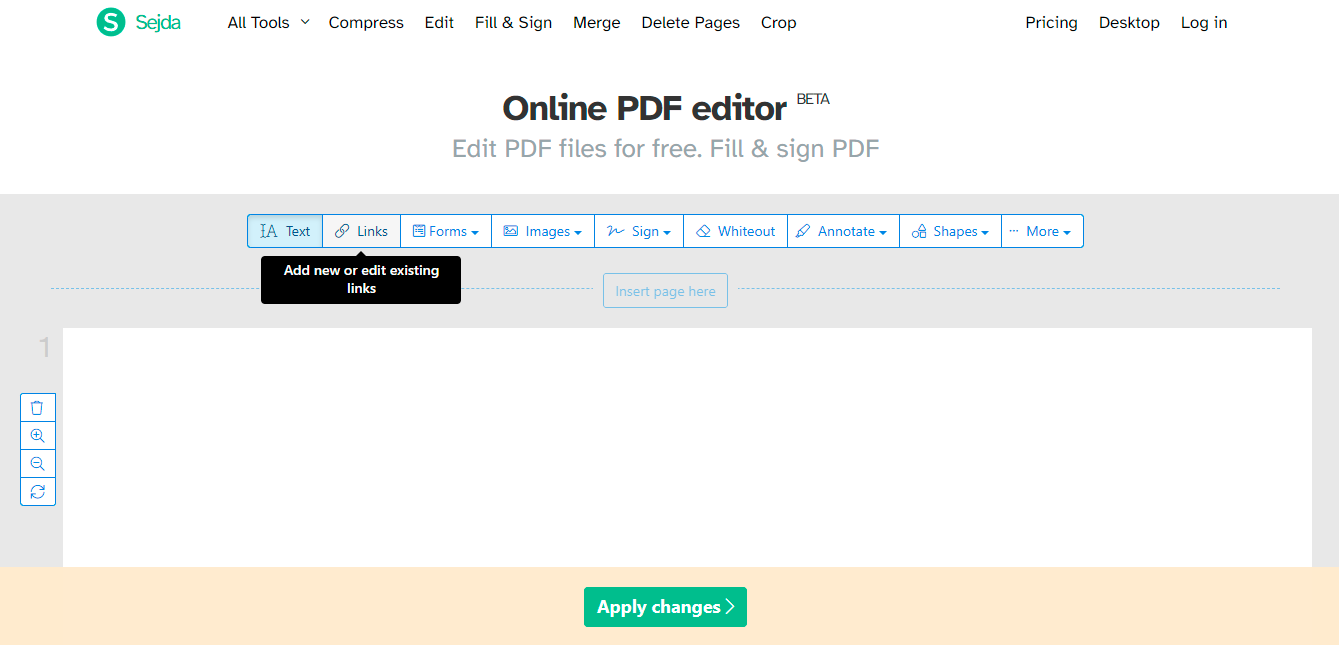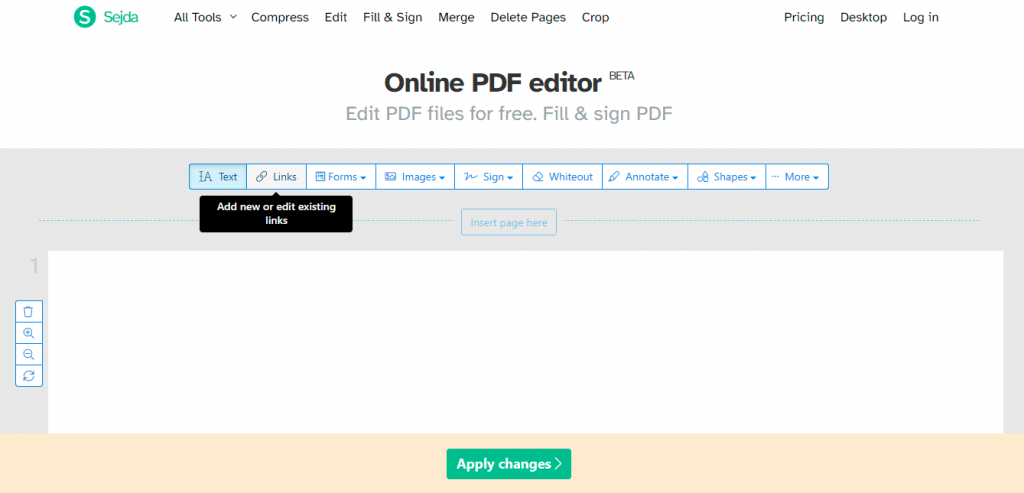 Pros
You can insert graphics, shapes, images and also enables you to add signatures.
It lets its user to easily edit and omit pages in PDF.
It also allows users to add hyperlinks in the document.
Cons
It does not edit large files. It has a 50 mb limit.
It has a limit of 200 pages. It only allows users to edit documents which are less than 200 pages.
A user can edit three PDFs per hour.
Best Free PDF Editors (Windows)
1.AbleWord PDF Editor
Ableword is very easy-to-use PDF editing software that allows users to create, edit and omit PDF documents and files with the help of its editing toolkit that contains many different features.
It is fully featured, It supports image formatting, tables, headers and footers.
It also includes spell checking and print preview option. It is even free for commercial use.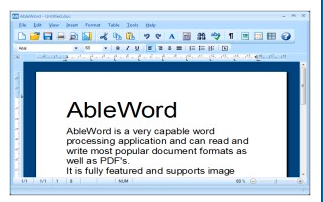 Pros
It is one of those few windows editors which is actually completely free.
It also allows some features of Microsoft Word.
Cons
Despite being a very good PDF editor, it has very limited number of features
Working and Editing is not that good as compared to other PDF editors.
2.Foxit Phantom PDF Editor
Foxit PDF editor allows users to create PDF, PDF/A, PDF/X,PDF/E from any file format or web pages.
It also enables users to work on scanned documents using it's OCR function.
In addition to editing functions, Phantom PDF can also perform other functions such as merging and splitting PDFs, annotating and sharing PDFs, creating PDF forms, and converting PDFs to other file formats.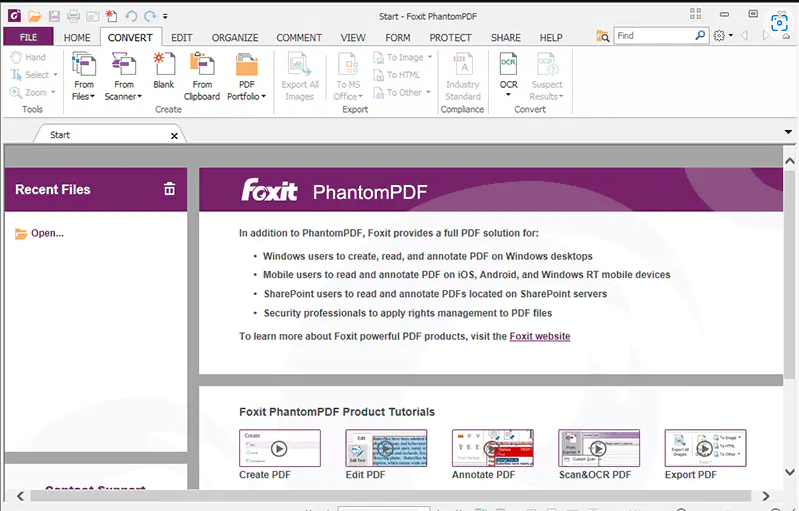 Pros
You can merge, flip and split the files using the Foxit PDF editor. It is more featured as compared to other PDF Editors.
It has an OCR function that enables users to work on scanned documents.
Cons
It has a really complicated interface, It takes a lot of time to understand the working of tools.
3.Nitro Pro PDF Editor
Nitro Pro PDF editor provides more features and functions compared to other PDF editors available. It is one of the best PDF editors available for Windows 10.
It supports all Windows operating systems and is available in two versions, personal and business.
It is very professional in terms of workspace and tools, allows users to use their creative minds at the right place.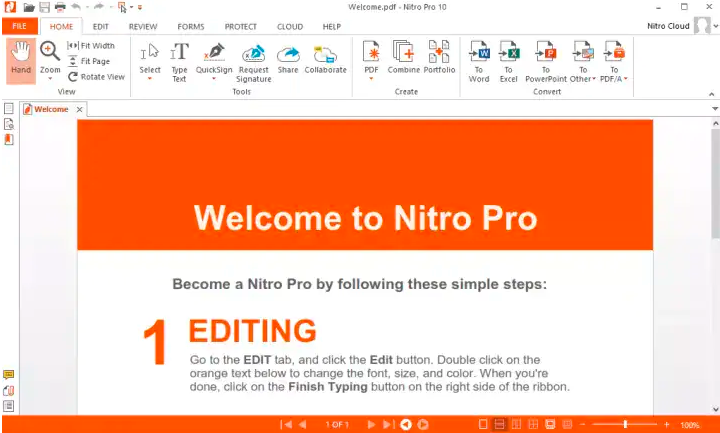 Pros
Compared to all other windows PDF editors Nitro Pro is way less complicated and easy to use.
It also allows users to work on scanned documents using its OCR technology.
Cons
The thing about Nitro Pro which disappoints the most is that it's not free, It is expensive compared to other editing software.
Although, It does provide a trial version but with very limited features.
Online PDF Editor VS Desktop PDF Editor
So as we have listed some of the best free PDF editor from both the types that is Online pdf editors and desktop pdf editors, lets discuss the comparison between them. The pros and cons of each so that you can get an idea of each ones usage which can eventually help you decide which one to use.
Here is a comparison table for a better clarity between the two types of PDF editors:
| Online PDF Editors | Desktop PDF Editors |
| --- | --- |
| Online PDF Editors are free | Desktop PDF Editors are not free, require a subscription |
| No installation required while using online PDF Editors | Desktop PDF Editors works only after installation |
| Can edit small PDF documents | Can edit and create small as well as large PDF documents |
| Works on almost every browser | Has more tools and features compared to online PDF Editors |
| It is Lightweight in use. | Desktop PDF Editors are heavy application |
| Online PDF Editors are really quick and fast | Works more professionally |
| | |
| | |
Advantages and Disadvantages
Above we have discussed some of the feature points of both the types of PDF editors. Now, let's look at the advantages and disadvantages of each of them, online as well as desktop PDF editors.
Online PDF Editor
| Advantages | Dis-advantages |
| --- | --- |
| Quick and fast compared to the Desktop versions. | Security issues as Documents are exposed to the internet. |
| No installation is required. | Requires fast internet connection for smooth work. |
| Works on any browser. | Has lesser tools than desktop. |
Desktop PDF Editor
| Advantages | Dis-advantages |
| --- | --- |
| Much Safer than the online PDF Editor as the work is done offline. | Not free, Requires subscription after trial period ends. |
| Has more tools and features than online PDF Editors | Requires installation. |
| Can work offline too. | These are heavy softwares. |
| Can edit large PDF files, No size limit. | Complicated working process. |
Conclusion
So there you have it – Our top 7 Best free PDF editor. All of these are great options for anyone looking to make quick and easy edits to their PDFs. The mentioned comparison between the online and offline pdf editors can be used to decide the best editor for you. But if you're looking for something a bit more powerful, we recommend A1Office. With its wide range of features and tools, A1Office is perfect for anyone who wants to do more than just basic editing with their PDFs. Thanks for reading!
Frequently Asked Question
1.How do I edit a PDF online for free?
There are many ways to edit PDFs online for free. You just need to find a suitable online free PDF Editor. However, we recommend using A1office online PDF Editor as it is powerful, east-to-use and one of the best free PDF Editor.
Here are few steps to edit a PDF online for free using A1Office. Open A1Office website > Select PDF Editor > Select whether you need to create a new PDF or edit an existing file > Upload the PDF file using Google drive or browsing in your device, once uploaded > File will open on the editing space where you can make desired changes and edits.
You can edit texts, insert images, shapes and graphics, add signature etc. Once done with the editing save and download the edited PDF File.
2.What is the best Free PDF Editor for Mac ?
A1Office PDF Editor for Mac is one of the best and free PDF editor for mac, fast and lightweight. With A1Office PDF editor users can view, highlight, edit existing texts & add images & e-signatures on PDFs for free. A1Office PDF Editor is a web based editor which can be accessed from anywhere for free regardless of which device you are using.